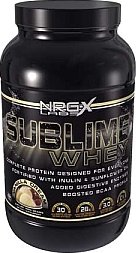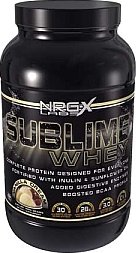 Complete Protein Designed for Everyone Fortified with Inulin & Sunflower Oil Added Digestive Enzymes Boosted BCAA Profile
30 Low Carb Servings with Digestive Enzymes Fortified with Inulin
23g High Quality Protein Ultra Pure Concentrate Micro Filtered Isolate
3.0 Talon Flavor System Instatized Mixing Great for Taste
0% Completely Free Gluten & Casein Free, Aspartame Free
NRG-X Labs is Excellence in Nutrition and Sublime Whey is excellence in protein, not only in it's design and overall composition but in it's purity and taste. First and foremost in designing a whey protein powder NRG-X Labs wanted 'the BEST' bar-none, the best quality whey protein. Upon finding a Ultra-Pure Whey protein concentrate and Micro-Filtered Whey Protein isolate to form something... well, sublime!! NRG-X Labs then turned to the next important issue... taste. Lets face it, you can have the best protein blend on the market but if it taste like, well... a normal protein shake most of us aren't going to be drinking it; so what's the point.

NRG-X Labs introduces their Talon 3.0 flavoring system; this is a blend of science, are and manufacturing process that yields the best tasting (no protein after taste), thick and creamy, rich milkshake like taste all in an instant dissolving micro-powder! You can actually mix Sublime Whey with a spoon and a glass of water... yeah, really!! That's where Sublime Whey got its name, the taste and mixability is truly sublime... you'll be finding excuses to use Sublime Whey every chance you get.

Sublime Whey protein is perfect for busy parents looking for a tasty, quick and easy snack for children before rushing out the door or add some frozen fruit and make a healthy smoothie for a fraction of the cost you'd pay at a retail store. Whey protein has been proven to aid in quicker weight loss for those on diets and is KEY for building strong muscles in the gym. It is a must for proper recovery after your workouts.

Studies show that an active adult should get their body weight in protein grams, so the average male weighing 185 grams or more of protein a day... think about it, it's nearly impossible to get that much protein from the foods we eat on a daily basis due to our hectic lifestyles. However, now that you use Sublime Whey, you can add 2-3 Sublime Protein Shakes a day and get a quick, easy and VERY tasty extra 60+ grams of ultra-high quality whey protein to your diet.

Sublime Whey uses over 22,000mg of Amino Acids per scoop to provide you with the best in muscle repair and recovery; plus added chicory derived inulin to promote bone density and health up to 20%. Inulin also can help manage diabetes as inulin in foods provides sweetness without causing a rise in glucose levels. Also, it is well known and documented that fiber, such as inulin, helps maintain a feeling of fullness for longer periods after eating and promotes healthier and proper digestion. Another addition to Sublime Whey that you won't find in other protein powders is sunflower oil which is extremely high in linoleic acid (an Omega-6 Fatty Acid) which may promote a host of health benefits including; increase in metabolism, decrease of 'belly fat', lowered insulin resistance, enhanced muscle growth, lower cholesterol and triglycerides, reduced food-induced allergic reactions and enhanced immune system. Sublime Whey is also 100% casein, gluten and aspartame free!

Sublime Whey is the way to better health and NRG-X Labs is Excellence in Nutrition.

Supplement Facts:

Serving Size: 1 Scoop
Servings per Container: 71

Calories 122 6%
Calories from Fat 18
Total Fat 2 g 3%
Saturated Fat 1 g 5%
Trans Fat 0 g
Cholesterol 45 g 15%
Calcium 135 g 13%
Sodium 133 g 5%
Potassium 175 g 5%
Total Carbohydrate 3 g 1%
Dietary Fiber 2 g 8%
Sugars 2.5 g
Protein 23 g 45%
Amino Acid Profile
L-Alanine 1115 mg
L-Arginine 560 mg
L-Aspartic Acid 2325 mg
L-Cysteine 585 mg
L-Glutamic Acid 3850 mg
L-Glycine 407 mg
L-Histidine 402 mg
L-Serine 1105 mg
L-Tyrosine 725 mg
L-Proline 1237 mg
L-Leucine 2345 mg
L-Isoleucine 1435 mg
L-Valine 1322 mg
L-Lysine 1932 mg
L-Methionine 532 mg
L-Phenylalanine 712 mg
L-Threonine 1532 mg
L-Tryptophan 431 mg

Other Ingredients: Ultra pure whey protein concentrate, micro-filtered whey protein isolate (naturally occurring bioactive compounds including di, tri and oligo peptides, beta-lactoglobulin, alphalactalbumin, serum albumin, and immunoglobulins), dutch processed coca, fructose, glucose, polymers (DE 10), chicory derived inulin (bone density promoter), sunflower oil (high linoleic acid), potassium chloride, natural and artificial flavor, lactase, protease and sucralose.

Free Of Gluten, casein and aspartame.

NOTE: Supplement facts may vary slightly by flavor.

Directions: Spoon Mixing: Sublime Whey protein mixes instantly. Just simply ass 1-2 scoops to a glass filled with B-12 oz of water, nonfat milk or your favorite beverage. Then mix it up with a spoon. Stir for about 20 seconds or until powder is completely dissolved.

Shaker: Using Sublime Whey on the go is easy by adding 1-2 scoops to your shaker cup and then pour in 8-12 ounces of your preferred beverage. Cover and shake for 25-30 seconds.

Blender: Add 2 scoops of Sublime Whey powder to a blender fill with 8-12 fl. oz. of water, nonfat milk, or your favorite beverage. Add several ice cubes and mix on highest speed for 45-60 seconds.

NRG-X Tips: Mixing 1-2 scoops with 8-12 fl. oz of nonfat milk or almond milk instead of water will give you a thicker, creamier shake.

Warnings: Consult your healthcare professional before using this or any other product. Do not use on a sole source of nutrition for weight loss or maintenance. Use this product as a dietary supplement only.
Note: Manufacturers continually change product specifications. While we try our best to keep product descriptions up to date, they do not necessarily reflect the latest information available from the manufacturer. We are not responsible for incorrect or outdated product descriptions and/or images.

These statements have not been evaluated by the Food and Drug Administration. This product is not intended to diagnose, treat, cure, or prevent any disease.