Quick Links to Best Prices Price History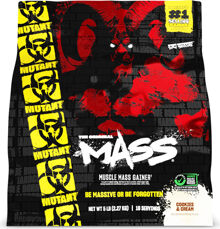 A New Breed Of Mass Gainer
Assembled for absurd gains in muscle mass
Over 1,000 calories per serving
Full experimental dose of protein, clean carbs & critical fats
Addictive tasting formula that mixes easily
52 Grams of Protein
32 grams of BCAA's Glutamine & Essential Amino Acids
Spawned from countless hours of research and testing on some of the freakiest mass monsters on the planet, Mutant Mass is a revolutionary, top secret experimental muscle mass gainer that delivers extreme, abnormal mass building results. If you're destroying the iron in the gym to build massive, Mutant-like proportions of skin stretching muscle and inhuman strength then Mutant Mass is a must for your mass building arsenal. Every powerful, military strength serving of Mutant Mass delivers a potent dose of anabolic macronutrients - including exclusive Mutant Pro.*
Leave Humanity Behind
Most people think you're crazy, some even call you a Mutant! But that's ok, you're not anything like them and you never will be. You are focused and driven. You hit the weights like a man possessed day in and day out because you won't settle for being average. You sacrifice daily to be superior and you should demand the same expectations from the supplements you use. You want results - period! The same mega-dense macronutrients delivered in every dose of Mutant Mass have been documented in research experiments to increase plasma insulin levels, growth hormone and muscle protein synthesis activation when taken soon after your hardcore weight-training session. Increased mass building hormones along with potent calorie-dense macronutrients from Mutant Mass is the scientific solution to massive gains in muscle size and strength as fast as possible! Don't settle for mainstream formulas that fall short of your high expectations, get on Mutant Mass today and leave humanity behind!*
Mutant Mass - Enhanced for Massive Results
Mutant Mass is formulated to deliver everything you need to build Mutant muscle size and iron-smashing strength. One of the true mass building formula innovations of our time, Mutant Mass exceeds all user expectations for producing results in record time. Just take one look at this super-enhanced experimental formula and you'll see why*.
Each precise serving provides the highest 1,060 ultra-dense mass building calories.*
Engineered with a complete blend of high-quality protein sources.*
Bioactive high-protein formula with incredible-tasting flavors.*
Ultra-advanced Clean Carb delivers novel Waxy Maize and multiple high-quality mass building carbohydrates with less sugars.*
Enhanced with Lipotherm - an exclusive blend consisting of select nutrient rich EFAs and MCT sport oils.*
Each and every powerful 15 lbs. Bag contains - 1,352 grams of protein, 4,576 grams of carbohydrates, & 27,560 calories!*
How Does Mutant Mass Work?
Your body needs a surplus of calories to grow! However, you must ensure that you're taking in quality calories and nutrients if you expect to pack on quality mass. Scientific research shows that the addition of 1000 to 2000 calories per day to your regular diet and training program can result in significant gains in lean mass and strength! But you can't just get those extra calories from any old source or else you'll end up gaining more fat mass than muscle mass. Mutant Mass is scientifically designed to stimulate rapid gains in lean mass and delivers the perfect combination of protein, carbs, lean fats and other anabolic nutrients needed for maximum muscle growth, strength and recovery. By using Mutant Mass you can rest assured you'll quickly make monstrous gains in quality mass!*
What Does Each Matrix Found in the Mutant Mass Formula Do?
Mutant Pro Multi-Staged 10 Protein Matrix
Provides your body with 10 different sources of complete protein.*
Includes a unique combination of fast-acting and slow-release protein sources.*
Provides your muscles with a constant supply of amino acids to enhance muscle growth, tissue repair and recovery all day long!*
Clean-Carb Pro-Glycogen Matrix
Includes waxy maize and waxy barley starch, which are absorbed faster than any other carbohydrate sources!*
Increases the speed and magnitude of muscle glycogen refueling to a greater degree than other carbohydrates.*
Maximizes exercise performance and enhances recovery.*
Lipotherm Sport Oil Matrix
Delivers a unique combination of top-quality 'lean' fats (including MCTs, CLA and Flax oil) to enhance muscle growth, reduce fat storage and support fat loss all at the same time!*
Amino-G Glutamine Peptide Matrix
Delivers a cutting-edge form of enzymatically modified peptide bonded glutamine, which maximizes muscle cell volume and enhances muscle recovery.*
Intrasorb-5 Calorie Impact Matrix
Includes colustrum and Insu-Drive Complex (Cinnulin-PF Patented Aqueous Cinnamon Extract), which enhances the efficiency of insulin and the digestive system, thereby improving nutrient uptake by muscles.*