Quick Links to Best Prices Price History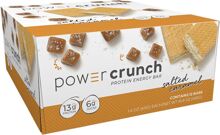 See more Power Crunch Bar pictures below!
Tired of the same old dry, chewy bars that claim to be "Balanced" and "Powerful"? Power Crunch Bars are the real thing. These creme filled wafer cookie taste just like a real cookie and pack high quality Proto Whey, and almost no sugar.
Proto Whey is what makes Power Crunch so much better Proto Whey is a micro peptide protein supplement designed specifically to fulfill the entire spectrum of metabolic requirements for optimum human health and performance. Research on protein breakdown, absorption, intestinal function, peptide transport, amino acid profile and tissue requirements provide the foundation. Evolving consumer needs for sophisticated flavoring, affordability and ease of use create the blueprint. The product of this grand marriage is Proto Whey, a quantum leap in protein technology and a new standard for comparison.
The superior nutritional value of Proto Whey is based on two new proprietary components; a super reduced molecular size responsible for extremely high di and tri peptide content, and micronized SoftPsil fiber technology which creates a host of synergistic functions designed to naturally enhance protein absorption and intestinal health. Proto Whey makes Power Crunch Bars your only choice for a perfect protein energy snack.*
ABOUT PROTO WHEY - THE KEY INGREDIENT IN POWER CRUNCH BARS
Proto Whey has a true Micro Peptide profile:
Micro Peptides need no enzymatic breakdown and absorb swiftly.*
This reduces the chance of undigested protein moving into the colon where it causes gas, bloating, diarrhea, nausea, etc.*
Proto Whey is the only product with proprietary SoftPsil micronized psyllium.
Most protein supplements have either no dietary fiber or poor quality fiber.
Micronized psyllium can help create smooth intestinal transit and elimination.*
Proto Whey has added glutamine.
Glutamine is known to support intestinal energy and repair.*
Glutamine is known to be absorbed more completely in the presence of protein.*
Glutamine is critical for optimum immune regulation and response.*
Glutamine is the amino acid found highest concentration in spinal and cerebral fluid.
Proto Whey has few non-protein or fat calories.
Proto Whey is an ideal choice for people needing to bolster protein intake.
Proto Whey is ideal for desensitized taste function.
POWER CRUNCH BAR PICTURES