Quick Links to Best Prices Price History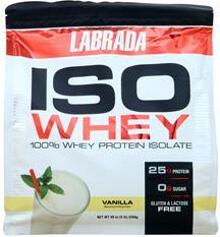 100% Premium Whey Protein Isolate
25 Grams of Protein
ZERO Carbs
ZERO Sugar
ZERO Lactose
ZERO Gluten
Research shows that athletes have a greater need for protein than the average person. This need is even greater in strength-training athletes. If you lift weights or regularly engage in physical activity, Lean Body can help you get the protein you need. Many people, including non-athletes, are unknowingly deficient in protein. Lean Body can provide nutritional insurance against inadequate protein intake.*
Product Highlights
ISO LeanPro 100% Whey Protein Isolate is an excellent source of all the essential amino acids and is extremely rich in the branched chain amino acids (BCAAs), leucine, isoleucine, and valine. Branched chain amino acids make up one-third of muscle protein and are important to athletes because training increases the body's demand for them. An adequate supply of BCAAs in the blood is insurance against loss of muscle size and strength. ISO LeanPro is also high in glutamine, which accounts for approximately 60% of all free amino acids in the body.*
Made with 100% Pure Whey Protein Isolate as the sole protein source, ISO LeanPro contains ZERO carbs, sugar, lactose and gluten — no junk, fillers, or cheap blends.
ISO LeanPro 100% Whey Protein Isolate is made by a unique micofiltration process that involves no heat or acid treatment like that used in ion-exchange whey protein production.
ISO LeanPro is not a blend containing whey protein concentrate, peptides, or other proteins. You get only 100% pure whey protein isolate as the source of protein.
ISO LeanPro is sugar-free, and carb-free, so it's perfect for dieting.
ISO LeanPro is lactose-free, so there is no bloating, gas, or indigestion associated with cheap proteins.
ISO LeanPro is gluten-free, perfect for individuals who must avoid gluten because they suffer from gluten sensitivities.
ISO LeanPro is perfect for athletes, bodybuilders, and fitness enthusiasts who demand the purest, highest quality protein available on the market.
ISO LeanPro has a BV of 159, making it more bio-available than any other protein source. The most accurate way of testing the bioavailability of proteins is with the BV (Biological Value) method which measures actual nitrogen retention in humans.*
References
Poortmans JR, Dellalieux O. "Do Regular High Protein Diets Have Potential Health Risks on Kidney Function in Athletes" Int J Sport Nutr 2000 Mar;10(1):28-38
Lemon, PW. "Is Increased Dietary Protein Necessary or Beneficial for Individuals with a Physically Active Lifestyle? Nut RevApril 1996; 54: s169-s175.
Lemon, PW. "Effect of Exercise on Protein Requirements." Jour of Sports Sci 1991; 9: 53-70.
Tarnopolsky M.A., et al. "Evaluation of Protein Requirements for Trained Strength Athletes." Jour. of App. Phys. Nov 1992; 73: 1986-1995.
Lemon, PW. "Effects of Exercise on Dietary Protein Requirements." Int J Sport Nutr 1998 Dec; 8(4): 426-47.
Walker DK, Dickinson JM, Timmerman KL, Drummond MJ, Reidy PT, Fry CS, Gundermann DM, Rasmussen BB. Exercise, Amino Acids and Aging in the Control of Human Muscle Protein Synthesis. Med Sci Sports Exerc. 2011 May 20. [Epub ahead of print]
Witard OC, Jackman SR, Kies AK, Jeukendrup AE, Tipton KD. Effect of increased dietary protein on tolerance to intensified training. Med Sci Sports Exerc. 2011 Apr;43(4):598-607.
Wilson J, Wilson GJ. Contemporary issues in protein requirements and consumption for resistance trained athletes. J Int Soc Sports Nutr. 2006 Jun 5;3:7-27. Source California State University East Bay, Hayward, CA. [email protected]
Beelen M, Koopman R, Gijsen AP, Vandereyt H, Kies AK, Kuipers H, Saris WH, van Loon LJ. Protein coingestion stimulates muscle protein synthesis during resistance-type exercise. Am J Physiol Endocrinol Metab. 2008 Jul;295(1):E70-7. Epub 2008 Apr 22. Source Department of Human Movement Sciences, Maastricht University, 6200 MD Maastricht, The Netherlands. [email protected]
Hulmi JJ, Lockwood CM, Stout JR. Effect of protein/essential amino acids and resistance training on skeletal muscle hypertrophy: A case for whey protein. Nutr Metab (Lond). 2010 Jun 17;7:51. Source Department of Biology of Physical Activity, University of Jyväskylä, P,O, Box 35, 40014 Jyväskylä, Finland. [email protected]