Quick Links to Best Prices Price History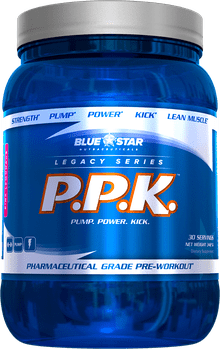 Blue Star Nutraceuticals P.P.K.
Pump. Power. Kick.
Increase Intensity*
Maximum Pumps*
More Power*
The Perfectly Engineered Single Serving Pre-Workout
Blue Star Nutraceuticals P.P.K. is perfectly engineered to be the only single serving pre-workout supplement that provides the research studied doses to get you extra plates, extra reps, and extra sets. And with the pumps you'll have, you'll look good doing them.*
You'll Lift More and You'll Lift Longer
P.P.K. is fueled with clinically researched ingredients to crank-up energy levels, maximize muscle pumps, boost power, increase strength, and dial-in focus.* You'll lift more and you'll lift longer.* But most importantly – your lifts will matter.
Refreshing and Hydrating
Every mouth-watering serving of P.P.K. is powered with hyper-hydrating ingredients that flood muscles with water and nutrients for bigger and fuller pumps.*
From Your First Rep to Your Last Rep
P.P.K. preps and primes your body for uninterrupted muscle-building. So whether you're knocking out a quick 45, or going for a full 2 hours – P.P.K. doesn't quit until you do. You see the Pump. You use the Power. You feel the Kick.
Human Research
The core ingredients in P.P.K. are clinically validated on human test subjects, which is important since most companies mislead you by promising results solely on animal research. What's worse, they don't use the clinically validated dose in their formula! The results found from the core ingredients in P.P.K. have been suggested to:
Increase Energy and Focus*
Improve Power and Performance*
Delay Time to Fatigue*
Increase Muscle Cell Hydration and Volumization*
Increase Maximal Strength*
Increase Endurance*
strengthpumpenergy