Quick Links to Best Prices Price History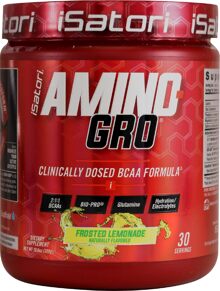 Advanced Post-Workout With Bio-Gro For Extra Protein Synthesis*
AMINO-GRO
2:1:1 Performance BCAA with BIO-GRO, Glutamine and Electrolytes
Scientifically Designed for Recovery, Fuel, Performance and Muscle*
Exclusively fortified with BIO-GRO for Increased Protein Synthesis*
Instantized Glutamine for Improved Recovery*
Fortified with CocoDrate Coconut Water Power and Additional Electrolyte Matrix*
0 Sugar, 0 Caffeine, 100% Incredible Flavor
At iSatori, we know that every workout is about transformation … transforming your mind, strength and muscle. New AMINO-GRO from iSatori combines a leading instantized 2:1:1 blend of BCAAs with clinically researched BIO-GRO, instantized glutamine and the hydrating power of CocoDrate coconut powder and electrolytes to help you maximize recovery, strength, muscle growth and hydration.* AMINO-GRO is a true advancement in performance aminos to help you reach your goals faster. Drink it during the day or use it pre, during or post workout so you can train longer and harder with faster recovery.*
AMINO-GROs unique, technologically advanced BCAA formula is not only designed to push back against the hardest workouts you can throw at it, but is designed to entice your taste buds as well. The perfect balance of a sugar-free formula with just a hint of smoothness and no bitter aftertaste will make your taste buds beg for more. AMINO-GRO as good as it gets!
How to Use AMINO-GRO:
1 serving = 1 scoop
| Time Of Day | Purpose | # of Servings |
| --- | --- | --- |
| Morning | Start to Recovery | Lean Muscle Building* | 1-3 |
| Mid-Day | Lean Muscle Building | Workout Preparation* | 1-3 |
| Intra Workout | Anti –Catabolism | Workout Performance | Muscle Building* | 1-3 |
| Post Workout | Recovery | Lean Muscle Building* | 1-3 |
Each Powerhouse Serving of AMINO-GRO Delivers:
2:1:1
Instantized
BCAA Complex
At the heart of this Complex is L-Leucine (as Leucitor) which is the primary trigger to stimulate the mTor anabolic pathway which in turn signals the body start recovery and growth.* To emphasize results, L-Leucine is in the proper 2:1:1 ration with L-Isoleucine and L-Valine ensuring you are getting all the BCAAs you need pre, during and post workout.*
BIO-GRO is the true differentiator from any other regular BCAA product. BIO-GRO is clinically studied on experienced lifters and it was shown to decrease recovery time, increase muscle size, strength, and lean body mass in gold standard double blind placebo controlled studies. BIO-GRO is the perfect complement to the 2:1:1 Instantized BCAA Complex.*
Instantized Glutamine
Glutamine has been an important amino acid with hard training athletes for not only it's function in helping reduce muscle breakdown, promoting muscle growth, but also for its role in promoting a healthy immune system.*
CocoDrate Advanced Hydration Compound
With hard training, also come sweating. Performance in and out of the gym is greatly affected by hydration and electrolyte balance. That is why AMINO-GRO includes the combination of Coccin (raw coconut water powder), Phosphorus, Potassium and Magnesium to help keep you hydrated and performing at your peak!