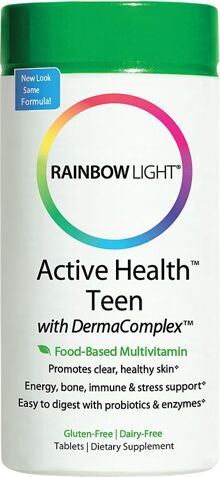 Rainbow Light Active Health Teen with DermaComplex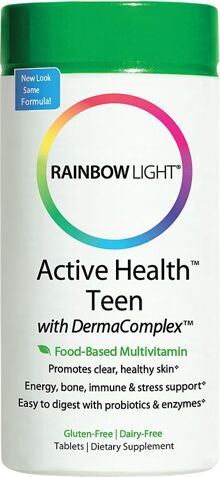 Rainbow Light Active Health Teen with DermaComplex
Today's teens often don't get the comprehensive nutrition they need. Rainbow Light's Active Health™ Teen Multivitamin is a food-based supplement designed to fill gaps in teen diets plus provide nutrients and botanicals that support clear, healthy skin with nourishing vegetables and high potencies of essential vitamins and minerals.* A proprietary DermaComplex™ Herbal Blend promotes healthy skin, as well as provides energy. It supports positive mood and blood sugar already within normal, healthy range.* Active Health™ Teen contains no artificial colors, flavors, sweeteners, preservatives or additives. It's also gluten-free, sugar-free, lactose-free, dairy-free, wheat-free and yeast-free. Gentle on the stomach, Active Health™ Teen features a convenient Flexi-Dose formula, which means it can be taken in different quantities depending on a teen's particular nutritional and skin needs.
Targeted Nutritional Support for Teens
Active Health™ Teen Multivitamin is specifically formulated to support the unique nutritional and skin balancing needs of teenagers. High potencies of key vitamins and minerals provide comprehensive nutrients to support the body's systems for energy and overall well-being.* Three tablets contain 300 mg of vitamin C (500% DV), 400 IU of vitamin D3 (100% DV), 200 IU vitamin E (667% DV), 9 mg of iron (50% DV), and 300 mg calcium (30% DV) that promote bone and immune health, along with potent antioxidant protection.* A complete vitamin B complex supports energy balance.*
Nourishing Vegetable Juice
Teen diets do not always include adequate servings of vegetables. Active Health™ Teen Multivitamin contains 306 mg of vegetable juice complex (equivalent to 756 mg of vegetable powder), which provides nutrient-rich green foods such as organic spirulina, kale, spinach, and beet juices.
Support Healthy Skin And Promote Positive Mood*
To help keep skin clear and healthy looking, Active Health™ Teen Multivitamin includes a proprietary 585 mg DermaComplex™ Herbal Blend (equivalent to 2,529 mg of herbal powder).* Herbal extracts of grape and vitex combined with ginger, dandelion, stinging nettle, burdock, yellow dock and red clover promote healthy skin, along with energy, positive mood, and healthy blood sugar, already within normal range.*
Easy-to-Digest with Enzymes, Ginger and Probiotics
Unlike other multivitamins that can be difficult for teens to digest resulting in stomach upset, Active Health™ Teen is gentle on the stomach and helps support and maintain a healthy digestive system.* Plant-based enzymes, 414 mg ginger and 75 million CFU probiotics support the body's natural digestive balance and promote overall immune system health.*
Purity Guarantee: Gluten-Free, Sugar-Free, Lactose-Free & 100% Natural
Active Health™ Teen Multivitamin is gluten-free, sugar-free, lactose-free, dairy-free, wheat-free and yeast-free. It is 100% natural, containing no artificial colors, flavors, sweeteners, preservatives or additives.
100% Post-Consumer Recycled, 100% Recyclable Eco•Guard Packaging
Packaged in 100% recycled, 100% recyclable BPA-free Eco•Guard packaging with a 92% lower carbon footprint than virgin plastic.
Product Highlights
The #1-selling teen natural multivitamin provides targeted nutrition with high potencies of key vitamins and minerals including vitamin A, vitamin C, iron, vitamin Bs, vitamin D3 and calcium
Nourishing vegetable juice rich in kale, spinach and organic spirulina provides nutrients often missing in teen's diets
DermaComplex™ Herbal Blend supports healthy skin and promotes energy. It also supports positive mood and healthy blood sugar already within normal range.*
400 IU vitamin D3, 300 mg vitamin C, 200 IU vitamin E and 9 mg iron promote bone health and immunity, along with potent antioxidant protection
Complete vitamin B-complex supports energy
75 million CFU probiotics, plant-sourced enzymes and ginger promote digestive and immune health support*
Gluten-free, sugar-free, lactose-free, dairy-free, wheat-free and yeast-free
100% Natural – Free of artificial colors, flavors, sweeteners, preservatives and additives