Quick Links to Best Prices Price History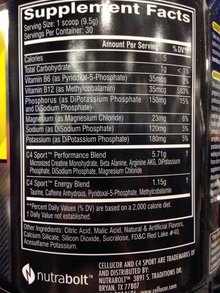 Important Made in USA Origin Disclaimer: For certain items sold by Walmart on Walmart.com, the displayed country of origininformation may not be accurate or consistent with manufacturer information. For updated, accurate country of origin data, it isrecommended that you rely on product packaging or manufacturer information.
C4 Sport Fruit Punch Concentrated Energy & Performance Dietary Supplement Powder provides a performance and energy boost that helps you in your journey towards becoming the best. To be your best, you need the energy and focus to perform at the highest level. This energy dietary supplement provides 30 servings and is powdered by electrolytes. It is great for on the go or at home and will help you to maintain energy levels. When you feel like staying in instead of hitting the gym, grab these and you will be sure to get moving.
C4 Sport Fruit Punch Concentrated Energy & Performance Dietary Supplement Powder:
Cellucor supplement, 10.05 oz, 30 servings
Powdered by electrolytes
Manufactured in a GMP compliant facility
Warnings: 
Warning Text: This product is only intended for healthy adults, 18 years of age or older. Do not use if pregnant or nursing. Before using this product, consult a licensed, qualified health care professional if: you are using a maoi (Monoamine Oxidase Inhibitor), ssri, or blood thinner, or you are taking any other dietary supplement, prescription drug or other-the- counter medication; or if, you have been treated for, diagnosed with or have a family history of, any medical condition, including but not limited to: high or low blood pressure, diabetes, anxiety, cardiovascular, psychiatric or seizure disorders, cardiac arrhythmia, stroke, heart, liver, kidney or thyroid disease, or difficulty urinating due to prostate enlargement. This product contains caffeine And should not be used by individuals wishing to eliminate caffeine from their diet or in combination with caffeine or stimulants from other sources, including but not limited to, coffee, tea, soda, other dietary supplements And medications. Discontinue use 2 weeks prior to surgery. Immediately discontinue use And consult a licensed, qualified healthcare professional if you experience any adverse reaction to this product. Do not exceed recommendations for Suggested Use. Use only as directed. Do not use if safety seal is broken or missing. Moisture And humidity can cause clumping. Store in a cool dry place. Keep out of reach of children.
Directions: 
Instructions: Take one serving (1 scoop) of c4 Sport, mixed with 4-6 oz. Of water 20- 30 minutes before training. Do not exceed 2 scoops per day. During your workout, it is recommended that your drink plenty of water. Some individuals may experience a harmless tingling sensation, which is attributed to beta alanine.