Quick Links to Best Prices Price History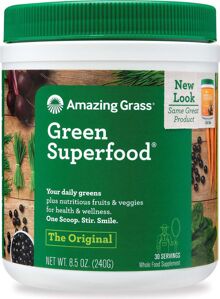 Amazing Grass Green SuperFood
Green SuperFood is blended to perfection in a delicious tasting powder that mixes well with juice, water or your favorite beverage. One serving helps support normal health with ingredients from fruits and vegetables.*
A full spectrum of alkalizing green superfoods, antioxidant rich fruits (Vitamin A and C), and support herbs unite with Acai and Maca to provide a powerful dose of whole food nutrition to supplement your diet.* Complete with pre & probiotics and digestive enzymes to support nutrient absorption and digestion.*
Green SuperFood: All natural and organic ingredients include organic wheat grass, organic barley grass, organic alfalfa, organic spirulina, organic spinach, organic chlorella (cracked cell-wall), organic broccoli, organic pure acai from Sambazon, organic maca, organic carrot, organic beet, raspberry, rose hips, pineapple, green tea, acerola cherry, organic flax seed powder, apple pectin fiber, F.O.S. (from chicory root), L. acidophilus, alpha and beta amylase, protease, lipase, lactase, cellulase, siberian eleuthero root and peppermint.
Amazing Grass Green SuperFood is Certified Organic
Formulation highlights:
Featuring Sambazon Organic pure Acai Powder, for antioxidant support.*
Organic Maca, revered for normal mental clarity, vitality and stamina support.*
FOS a prebiotic from chicory root.
New enhanced digestive enzymes and pre and probiotic active culture blend.*
100% Vegan.
No Soy Lecithin fillers.
Amazing Grass Green SuperFood is a blend of alkalizing greens, antioxidant rich whole food fruits and vegetables (Vitamin A and C), immune support herbs, and friendly pre & probiotics.* Our powder mixes so easily with water; you'll wonder how essential green nutrition could taste this good.
Contains our blend of Amazing Grass Organic cereal grasses and organic alfalfa.
Loaded with a complete spectrum of the three major Green SuperFoods; Cereal Grasses, Alfalfa and Micro-Algae.
More organic whole-leaf greens per gram than any other Green SuperFood – Not from Juice!
Contains no Soy Lecithin fillers
Naturally balanced powerhouse of antioxidants (Vitamin A and C) including; B-Vitamins, Beta Carotene, Bioflavonoids, Lycopene, Folic Acid, Dietary Fiber, Super Oxide Dismutase (SOD), and Omega 3, 6 & 9 Essential Fatty Acids.*
Complete "Live Food" with beneficial enzymes, carotenoids and phytonutrients (plant pigments).
Contains probiotics- the friendly microorganisms that support healthy digestion and regular elimination.*
Contains prebiotics- selectively supports the growth of healthy intestinal bacteria.*
Alkaline green plant foods to help support normal pH levels.*
Contains essential fatty acids (EFA's).
No Synthetic, Isolated or Fractionated Vitamins & Minerals.
If you're among the 90% of Americans who fail to consume the recommended 5 to 9 daily servings of fruits and vegetables, you may benefit from Amazing Grass Green SuperFood! Just one serving gives you the support of fruits and vegetables when combined with a healthy diet.*†
Why Green SuperFood?
Experts agree that consuming more fruits and vegetables, and especially deep green leafy vegetables, are beneficial for the body. It is like nature's ultimate insurance policy. But with today's hectic lifestyle who has time to get 5 to 9 servings a day? Accordingly to statistics, nearly 90% of us don't get enough servings everyday. Amazing Grass Green SuperFood allows you to get the best nutrition any time of day, everyday. We've hand selected the most nutritious vibrant vegetables, cereal grasses, algae, and antioxidant rich fruits to create a delicious tasting powder that can be mixed easily with water.* For those that haven't acquired the taste for greens, we're confident your taste buds will love our Amazing Grass Green SuperFood!
What do I mix the Green SuperFood powder with?
Customers prefer it with cold water while others put in in their morning smoothie or mix it with their favorite fruit juice. It also tastes surprisingly good with dairy or soy milk. We have several bakeries that make SuperFood cookies with Amazing Grass Green SuperFood...and sell out daily!
Benefits of Green SuperFood
Our premium blend of organic superfoods promotes amazing energy*
A delicious drink powder to help you achieve your recommended 5 to 9 daily servings of fruits and vegetables.*
Contains antioxidants (Vitamin A and C), B- vitamins, carotenoids, phytonutrients, enzymes, dietary fiber and essential fatty acids.
Support normal healthy cleansing.*
Probiotics and enzymes to support digestion and absorption.*
Complete raw food with antioxidants (Vitamin A and C).*
Alkaline green plant foods to help support normal pH levels.*
More organic whole leaf greens per gram than any of the leading 'green drinks' – not from juice.
Featuring Sambazon organic pure acai and organic maca.
No soy lecithin fillers.
Non dairy, Gluten free, Non-GMO, Vegan.
Certified Organic.
Amazing Grass Green Food Blend
Organic Wheat Grass – One of the most potent green vegetables available. Wheat grass contains; natural vitamins, minerals, amino acids, and enzymes. When grown properly and harvested at the ideal time, wheat grass is highly alkalizing and may help to cleanse the body in normal range.*
Organic Barley Grass - Green barley leaves contain a multitude of the body's spark plugs, enzymes. Enzymes are the catalysts for the body's essential chemical reactions and are responsible for our digestive processes, for providing cellular energy, and for antioxidant effects.* Considered one of the world's experts on green barely, Dr. Hagiwara, believes that there may be thousands of active enzymes in green barley, especially superoxide dismutase (SOD).*
Organic Alfalfa – Roots grow very deep to absorb many minerals and nutrients from the soil. Contains eight essential amino acids, vitamin B12, natural fluoride and chlorophyll.
Organic Spirulina - Like all edible dark green plants, is also suggested to be highly alkalizing, meaning that it may help support the acid-base balance.*
Organic Cracked Cell Chlorella - Chlorella is the number one selling health food supplement sold in Japan. Chlorella, a unique single-celled fresh water green algae, contains concentrations of chlorophyll, nucleic acids, amino acids, enzymes, antioxidant carotenes, and vitamins and minerals, especially zinc.*
Organic Spinach – Contains folate (folic acid) and antioxidants for normal support.*
Organic Broccoli – Contains iron and folic acid. Broccoli also contains antioxidants and sulforaphane, which is believed to help support optimal health.*
Antioxidant Blend*
Organic Acai – We feature Sambazon Organic Pure Acai. (Ah-sigh-ee) is a purple berry from the Amazon Rainforest. It contains more antioxidants than pomegranates and has omega fats, proteins and dietary fiber.* It has a rich berry-cocoa flavor that unites perfectly with our Green SuperFood. Our friends at Sambazon created a supply chain that benefits thousands of local families while protecting the Amazon rainforest through sustainable agriculture. Also contains vitamin A from Beta Carotene.
Organic Maca – Organic Maca (Lepidium meyenii) is a perennial that grows between 13,000 and 14,500 feet above sea level high in the Andian plateaus of Peru. It has tuberous roots that resemble it's relative the radish. Contains calcium, magnesium, phosphorous and iron, and contains trace minerals, including zinc, iodine, copper, selenium, bismuth, manganese and silica, as well as B vitamins.
Organic Carrot – Good source of vitamin A from Beta Carotene.
Organic Beet – Has carotenoids such as lycopene and lutein that supports optimum health.*
Raspberry –Contains photochemicals and antioxidants (Vitamin C).*
Rose Hips - Natural source of Vitamin C. Supports good health with bioflavonoids and antioxidant support.*
Pineapple – Digestive enzymes, vitamin C and natural source for flavoring.
Acerola Cherry - Nature's richest source of vitamin C. Vitamin C is a premier antioxidant and important for normal health of the immune system.*