Quick Links to Best Prices Price History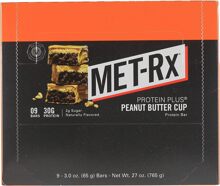 Athletes, anyone following a high protein diet and active people from all walks of life need a higher protein intake than the average person - and the new PROTEIN PLUS food bar is the best tasting, most convenient way to get that extra protein. PROTEIN PLUS bar provides almost twice the protein per gram compared to most other bars, and it's easily digested and absorbed for faster, more effective lean muscle growth and body fat loss. Every bar contains 34 grams of high quality METAMYOSYN enhanced protein-the exclusive protein formulation that is a fundamental ingredient in other MET-Rx products.*
The Protein You Need Without Unwanted Carbohydrates
Scientific research shows that high carbohydrate diets - once thought to be an effective fuel source - is instead a major cause of unwanted fat. Inserting the PROTEIN PLUS bar into your diet is the ideal way to increase your protein intake without loading up on unwanted carbohydrates to help build muscle instead of adding fat.* Each Protein Plus Bar has:
32 grams of protein per bar
Only 32 grams of carbohydrates per bar
85 grams per bar
0g Trans Fat
Enriched with 21 vitamins and minerals
No added sucrose or fructose - Concentrated sugars that are converted to fat
METAMYOSYN enhanced protein provides slower mobility for better protein functionality
Protein Plus bars use a proprietary process to stay light, moist and fluffy - unlike most protein bars which can become hard, brittle and dry.