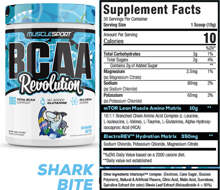 MuscleSport BCAA Revolution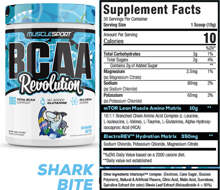 MuscleSport BCAA Revolution
Stimulant Free
ADVANCED RECOVERY
PURE HYDRATION.
RAPID RECOVERY*
DELICIOUS TASTE*
THE SCIENCE
BEHIND THE PERFORMANCE
LEUCINE LOADED // GAME-CHANGING FLAVOR*
BCAA Revolution is a leucine-loaded and glutamine-fortified branched chain amino acid powerhouse! At a 10:1:1 ratio, the most important amino acid necessary for muscle growth, leucine, is packed into each scoop to optimize the anabolic environment of your muscles! Add in the most ubiquitiously used amino acid, glutamine, and you'll be able to recover from even the most intense training sessions or activities.*.
muscle recovery
fat metabolizing*
Branched Chain Amino Acids
The BCAAs are the functional components of protein – the reason protein builds muscle. Isolating them gives you all the anabolic power without the calories while reducing gastrointestinal stress.*
Glutamine Peptides
Glutamine is used in numerous bodily processes, including muscle anabolism, gluconeogenesis, nutrient absorption, and immunity.*
HICA-DL
Hydroxyisocaproic acid, a leucine metabolite. Leucine is so powerful, it keeps working even after being broken down to HICA. HICA primarily functions to reduce muscle breakdown.*
Electrolyte Replenishment Matrix
Electrolytes are essential for energy production and help to reduce muscle cramps by promoting hydration.*