Quick Links to Our Prices Price History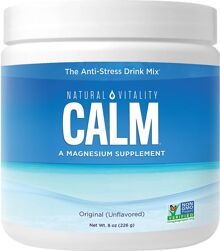 Natural Vitality Natural Calm
Magnesium is vital to daily health. This key mineral is part of over 300 biochemical processes that take place in your body regularly: muscular contraction, energy production, and many others.*
Four out of five people don't get their minimum daily requirement of magnesium.
Calcium intake needs to be balanced with magnesium so it can be assimilated and properly utilized.*
Too much calcium and not enough magnesium may cause calcium buildup and result in increased and sustained stress and other unhealthful conditions.
Magnesium supports heart health, stress management, bone health, healthy sleep and rest, mood, energy production and storage, women's health, men's health and athletic performance.*
Natural Calm™ is our top-selling magnesium supplement. It's ionic, which means it gets used by the body.