Quick Links to Our Prices Price History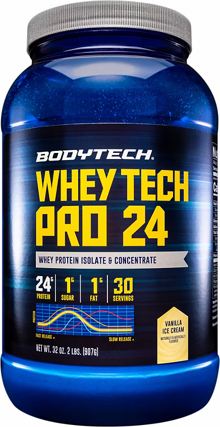 Bodytech Whey Tech Pro 24
24g Protein
1g Sugar
12 Packets
Whey Tech Pro 24 fuels your body with 24 grams of high quality protein per serving. Add Whey Tech to your dietary and exercise regimen and youll be benefiting from an important combination of whey protein isolates, concentrates and peptides. All are engineered to provide you with the building blocks needed to develop metabolically active lean muscle tissue. In addition, whey protein has a high biological value and high concentration of the branched chain amino acids (BCAAs): leucine, isoleucine and valine. Research continues to show the benefit of BCAAs in muscle recovery and growth.
Although consuming adequate protein has been shown to lead to positive nitrogen balance and added muscle growth, when combined with a resistance training program, proper protein utilization and digestion must occur in the body for this to happen. Whey Tech Pro 24 is enhanced with lactase as well as Aminogen, a patented protein enzyme blend that may help aid in the digestion and absorption of protein.
Each serving provides 25 mg of a Proprietary Enzyme Blend consisting of Aminogen (proteases) and lactase.