Quick Links to Our Prices
How does this work and how do stores get listed? See our disclosure below to learn more. Price History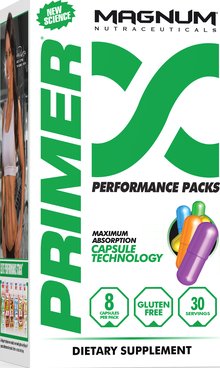 Magnum Nutraceuticals Primer
the world's 1st 100% encapsulated multi-nutrient performance pack.
Whatever you want to build in the gym, Magnum Primer is your foundation. It can help you build more muscle, burn more fat, and train with more intensity.* Why? Because Primer nourishes your body at the most basic level: the cell. There are between 50 and 75 trillion cells in your body. Each type of cell has its own lifespan – some last seconds; others, an entire lifetime. The nutrients you supply to each cell will determine its performance – and Magnum Primer provides the best ingredients coupled with the best delivery system.
Everything an athlete needs to reach new heights of excellence!
INGREDIENTS IN MAGNUM PRIMER WILL SUPPORT:
Muscle Mass & Recovery*
Strength & Performance*
Cellular Energy & Hydration*
A GREAT ENCAPSULATED PERFORMANCE MULTI PACK WILL PROMOTE THE FOLLOWING RESULTS:
Better post workout recovery*
Delay the onset of muscular fatigue*
Increase the rate of fat metabolism*
Improve strength and exercise performance*
Support healthy immune function*
magnum primer is the best choice for your encapsulated performance multi pack because:
High quality ingredients for better, faster results*
Incredibly strong and unique formulation – there's nothing else like it on the market
Sealed hard gelatin caps are good oxygen barriers for maintaining the product efficacy
Protection for sensitive ingredients – no heat damage in manufacturing
Shell breaks down/opens in 4 to 15 minutes for maximum absorption
Less chance of gastrointestinal irritation*
Odorless, tasteless, easy to swallow
Consumers have the ability to open the capsules and mix in food or liquid
All Primer capsules are certified Halal and Kosher
Magnum Primer was created to supply high quality ingredients in their most absorbable state to your cells. Our micronutrients and cofactors have been handpicked and carefully encapsulated to ensure maximum absorption. You will not find any compressed tablets in Magnum Primer for a reason. Compressed tablets include excipients such as povidone (PVP), cellulosics, and modified starches, which are included as binders, disintegrants, diluents, lubricants, and surfactants in tablets. These inert ingredients can constitute up to 75% of a tablet and usually end up causing them to pass through your digestive system largely unabsorbed.
Magnum Primer delivers it's ingredients in a fine particle form in the natural shell of the capsule, this opens in the stomach in under 15 minutes, and when consumed with a meal as recommended, is transported completely available for utilization through the stomach and into the intestines, laying the foundation to support muscular gains, recovery, health, wellness and anti-aging.*
Beyond absorbability, you also have ease of ingestion. Two-piece capsules are smaller and smoother, with less foul taste or smell of ingredients, resulting in most people finding it a lot easier to swallow capsules over tablets. In fact, a recent study showed capsules were preferred over tablets by 90% of the participants. [1]
"Pill Burden, Compliance, and Hyperphosphatemia in Dialysis Patients"
Authors: Sherman, Richard A.
Source: Nephrology. 2005;2(1)
Participant Preferences
Primer's unique and groundbreaking delivery mode allows for even the pickiest eaters to consume a multi-vitamin by providing the opportunity for the consumer to open the capsule and mix the Pharmaceutical Grade raw materials into a shake or smoothie. No hard compressed tablet, that looks like only a horse could eat it, allows for such versatility.
Magnum PRIMER also utilizes key ingredients in the right ratios and combinations to allow maximum energy production for training and to combat the stresses of life.* Separate research similarly suggests that people who took a multivitamin for four months reported significantly increased energy, improved mood and better sleep, compared to those who took a placebo.*
Participant experiences from chronic administration of a multivitamin versus placebo on subjective health and wellbeing:
a double-blind qualitative analysis of a randomized controlled trial
Authors: Jerome Sarris, Katherine H M Cox, David A Camfield, Andrew Scholey, Con Stough, Erin Fogg, Marni Kras, David J White, Avni Sali, and Andrew Pipingas
Of the 182 participants enrolled, 116 completed the study and qualitative data were available from 114 participants. Thematic analysis revealed significant effects in favor of the multivitamin over placebo for participants experiencing increased energy levels and enhanced mood.* The beneficial effect on energy levels was particularly evident among female participants. A trend was found for participants reporting better sleep in the multivitamin over placebo.*
This represents the first documented qualitative investigation of participants' experience of chronic administration of a multivitamin. Results uncovered a range of subjective beneficial effects that are consistent with quantitative data from previously published randomized controlled trials examining the effects of multivitamins and B vitamin complexes on mood and well-being.
Active individuals lacking in B-vitamins, including college athletes and other elite competitors, may perform worse during high-intensity exercise and have a decreased ability to recover and build muscle than counterparts with nutrient-rich diets, according to recent Oregon State University research published in the International Journal of Sport Nutrition and Exercise Metabolism.*
Poor Athletic Performance Linked To Vitamin Deficiency
Authors: Oregon State University
(2006, December 27).ScienceDaily.
The B-vitamins include thiamin, riboflavin, vitamin B-6, B-12 and folate. These micronutrients are necessary during the body's process for converting proteins and sugars into energy, and are used during the production and repair of cells, including red blood cells. For active individuals, a marginal deficiency in the nutrients may impact the body's ability to recover and operate efficiently.
The stress on the body's energy producing pathways during exercise and the changes in the body's tissues resulting from training, and the increase in the loss of nutrients in sweat, urine and feces during and after strenuous activity and the additional nutrients needed to recover and maintain higher levels of lean tissue mass present in some athletes and individuals may all affect an individuals B-vitamin requirements.
"

many athletes suffer from fatigue caused by iron deficiency

"

Athletes who restrict calories or limit food groups like dairy or meat have an increased chance of deficiency. Such athletes are often concerned about maintaining a low body weight for sports like gymnastics, wrestling or physique competitions.

"Multivitamins provide insurance against the performance consequences of vitamin and mineral deficiencies, which are common even among athletes," says Robert Portman, PhD, author of Nutrient Timing (Basic Health, 2004).* Many athletes suffer from fatigue caused by iron deficiency, for example, which a good multivitamin- multimineral supplement may help prevent.*

A 2007 study published in the Journal of the American College of Nutrition found that 14 days of multivitamin supplementation reduced exercise-induced cell damage in athletes.*
Lipid peroxidation refers to the oxidative degradation of lipids. It is the process in which free radicals "steal" electrons from the lipids in cell membranes, resulting in cell damage. This process proceeds by a free radical chain reaction mechanism. It most often affects polyunsaturated fatty acids, because they contain multiple double bonds in between which lie methylene bridges (-CH2-) that possess especially reactive hydrogens. As with any radical reaction, the reaction consists of three major steps: initiation, propagation, and termination. A recent study suggests that Multivitamin-Mineral supplementation could reduce this free radical cell damage in athletes.*
Multivitamin-Mineral Supplementation Prevents Lipid Peroxidation during "The Marathon des Sables"
Authors: Guillaume Machefer PhDab*, Carole Groussard PhDab, Sophie Vincent PhDab, Hassane Zouhal PhDab, Henri Faure PhDd,Josiane Cillard PhDbc, Zsolt Radák PhDe & Arlette Gratas-Delamarche PhDab
Source: Journal of the American College of Nutrition Volume 26, Issue 2, 2007
Researchers investigated the effect of a moderate multivitamin and mineral supplementation prior to and during an extreme running competition -the Marathon des Sables (MDS) - that consisted of six long races in the desert.
Seventeen athletes participated in the double blind, placebo-controlled study. Blood samples were collected prior to the supplementation i.e. three weeks before the competition (D-21), two days prior to the MDS (D-2), after the third race (D3) and at the end of the competition (D7). Erythrocyte antioxidant enzyme activity (glutathione peroxidase (GPx), superoxide dismutase (SOD)), erythrocyte glutathione level (GSH), plasma non-enzymatic antioxidant status (uric acid, vitamin C, α-tocopherol, retinol, β-carotene), markers of plasma lipid peroxidation (thiobarbituric reactive substances (TBARS)), reactive carbonyl derivatives (RCD) and membrane damage (creatine kinase and lactate dehydrogenase activities) were measured.
Results: In both groups, GSH levels, uric acid levels and membrane damage significantly increased during the competition while SOD activity significantly decreased. In the multivitamin/mineral Supplemented group, plasma α-tocopherol, β-carotene and retinol levels significantly increased after three weeks of supplementing.* In contrast to Placebo group, α-tocopherol, vitamin C and retinol levels were significantly affected by the competition in Supplemented group. Moreover, no increase in TBARS was observed in Supplemented group during the competition, whereas TBARS significantly increased at D3 in the placebo group.*
exercise induced free radical cell damage (tbars)*
Multivitamin/ mineral supplemented group
Non-Multivitamin/ mineral (placebo) group
The moderate multivitamin mineral supplementation prevented the transient increase in free radical cell damage (TBARS) levels during this extreme competition.*
WHO IS IN NEED OF
MAGNUM PRIMER?
Anyone who wants more out of their current multivitamin/ multi-mineral*
Anyone who wants to support recuperative abilities*
Anyone trying to build more lean muscle or lose body fat*
Anyone trying to break through training plateaus – whether anaerobic or aerobic*
Anyone who is on a calorie restricted diet
Magnum primer was formulated with three goals in mind:
Ensure you have a perfect nutrient foundation to build on top of*

Allow athletes to maintain their higher metabolic work rate*

Increase the rate by which you can achieve your athletic goals*
FREQUENTLY ASKED QUESTIONS
Are there any products you recommend to take with Magnum Primer?
Yes, Magnum Primer has been formulated to work synergistically with Magnum Performance Greens, Magnum Quattro, Magnum Big C, Magnum OPUS and Magnum Thrust. But really Magnum Primer can be stacked with any of Magnum's products for your own unique stack.
When is the best time to take Magnum Primer?
Magnum Primer is best taken with food for maximum absorption. Some multivitamin consumers even choose to sandwich the ingestion of Primer right in the middle of their meal. As for which meal in the day to take Primer with, that is a personal preference, but most people seem to take it with either breakfast or lunch. The convenient capsule pack allows for the product to be taken with you while you are away from home or at work, ensuring a dose is never missed.
Can women also take Magnum Primer?
Of course! Magnum Primer was created for anyone trying to support their health and performance.*
How quickly can I expect results from Magnum Primer?
Many consumers say they feel an increase in energy and wellbeing in as little as five to ten days.* Remember that this product is providing the building blocks for every cell in your body.