Warning: This product is not currently available at any store.
Click the button above and PricePlow will email you when the first store has it in stock!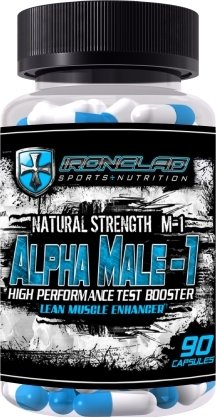 Xcel Sports Nutrition Natural Strength M-1
IronClad Sports Natural Strength M-1
Natural Strength M-1 is a powerful all natural muscle builder that promotes increases in lean muscle mass and strength that rivals pro-hormones. Natural Strength M-1 will provide dramatic strength increases in 3-5 days, and lean muscle mass increases in 3-4 weeks. If you're a hard gainer or someone that is looking to put on extra lean muscle, Natural Strength M-1 is the only product ever designed to do this without steroidal influence. IronClad Sports Natural Strength M-1 is the perfect choice for strength athletes or competitors on a cutting cycle.
Xcel Natural Strength M-1 contains the natural plant sterols 5a-Hydroxy Laxogenin and 20 Beta-ecdysterone which both promote protein synthesis and cellular recovery. 7-Keto is included to promote increased fat loss while decreasing muscle loss. To top off the formaula IronClad Sports has included Long Jack and Tribulus Terrestris which both work to increase free testosterone, libido, and promote a more anabolic state.
These powerful natural ingredients work together to provide increased protein synthesis, lean hard muscle gains, increased strength, and naturally increased testosterone levels. IronClad Natural Strength M-1 is NOT a prohormone and does not require PCT.