Warning: This product is not currently available at any store.
Click the button above and PricePlow will email you when the first store has it in stock!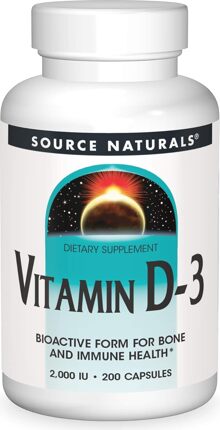 Source Naturals Vitamin D-3
Healthy Cell, Bone and Immune Support
Nicknamed the "sunshinevitamin" because the body makes it naturally when exposed to the sun,scientists are discovering that vitamin D-3 is an important hormoneprecursor that supports healthy immune system function and helps regulate the health ofat least 20 different tissues, including the brain and joints.* It alsoplays an important role in regulating cell growth and boneformation.*
Researchers are finding that the current recommended daily allowances ofvitamin D—200 international units for infants, children and adults up toage 50 years; 400 IU for men and women from 50 to 70; and 600 IU for peopleolder than 70—may be far lower than what is necessary for optimum health.That's why Source Naturals offers Vitamin D-3 in 400 IU, 1,000 IU and 2,000IU tablets; 2000 IU softgels, 5000 IU capsules, and as a convenientliquid.
Total Body Vitamin
Vitamin D addresses seven of the twelve SystemiCareTM deep metabolicsystems of the body, systems crucial to vibrant health: Cells/ DNA,Metabolism, Hormones, Cognition/ Nerves, Immunity,and Structure/ Connective Tissue.*
Healthy Cell Proliferation
Vitamin D research is an emerging area of interest for scientists, who haveyet to understand the many roles of this important vitamin in the body.While vitamin D's main function is to maintain normal levels of calcium andphosphorus in the blood, vitamin D also serves as a hormone precursor.* Onceit has been converted into its active form, it can enter a cell, cross thenuclear membrane, attach to specific receptors on the DNA or its proteinwrapping, and promote cell differentiation.* Vitamin D is one of the body'smany control systems, acting like an emergency brake to stop cells fromperilously misbehaving.*
Important Immune System Function and Health Booster
Some studies suggest that vitamin D may aidneurological health, joint health and function, and support healthy bloodsugar levels that are already within the normal range.*
Vitamin D and Bone Health
Having normal storage levels of vitamin D in the body helps keep bones strong.*
The Wellness Revolution
Taking personal responsibility for your health and exploring safe naturalalternatives to support wellness is the basis for the current revolutionin health care.* Vitamin D's benefits are only now being recognized andacknowledged. Health food outlets are the center of this wellnessrevolution because only here can Source Naturals Vitamin D and hundreds ofother powerful natural compounds be found.