Quick Links to Best Prices Price History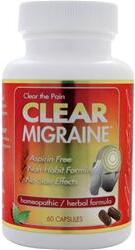 Migraine Description from Clear Products
Western medicine's approach to relieving headache pain involves prescription drugs and over-the-counter medications, which may bring about a dependency and undesirable side effects. Clear Migraine is a unique blend of homeopathic/herbal remedies specifically formulated to relieve pain associated with migraine headaches - safely and effectively - without side effects or dependency.

Did you know...According to the National Institute of Neurological Disorders and Strokes (NINDS), 45 million people in the United States suffer from chronic headaches. The most common type of headache is migraine. An estimated 28 million Americans suffer annually from migraine headaches. Migraine sufferers lose more than 157 million workdays because of headache pain.

Benefits and Features of Clear Migraine:

-Aspirin free, non-habit forming, and no side effects

-Contains specific homeopathic remedies traditionally used to help relieve the symptoms of migranes, tension, and cluster headaches. For common, everyday headaches, use our Clear Headache product.

-Easy-to-swallow capsules

-Safe for individuals with health problems; does not increase heart rate

-Does not make you drowsy
Ingredients:
Active Homeopathic Ingredients: Aconite 3x, Belladonna 6x, Bryonia 6x, Cimicifuga 3x, Hypericum 3x, Iris Versicolor 6x, Kali Bichromicum 3x, Natrum Muriaticum 6x, Sanguinaria 3x, Spigellia 6x

Other Ingredients (Herbal Extracts): Corydalis Tuber, Angelica Sinensis Root, Ligustici Root, Peony Root, Peuraria Root, Angelica Dahurica Root, Chrysanthemum Flower, Gastrodia Tuber, Rehmannia Root, Siler Root, Ginger Root, Lycium Fruit, Tangerine Peel, Licorice Root.
Manufacturer's Directions
At the onset of a common, everyday headache (and those due to cold or flu), take 2-3 capsules every 3-4 hours as needed or as directed by your healthcare practitioner. Take with food if mild stomach discomfort occurs. Do not exceed 12 capsules in a 24-hour period.
Manufacturer's Disclaimer
People who have persistent pain not relieved by Clear Headache or Clear Migraine should consult with their physician or healthcare practitioner to rule out structural or functional abnormalities. People who are on anti-coagulant or anti-platelet therapies should use this formula with caution since there may be a higher risk of bleeding and bruising.