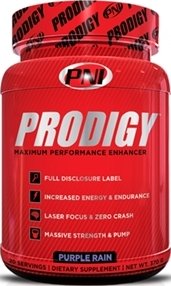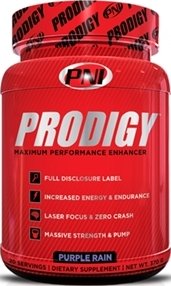 If results are what you're looking for, the casual trip to the gym and gas station protein shakes are not going to do it. To gain real mass you have to set a regimen and stick with it. PNI's Prodigy was specifically engineered to provide you with the mind-set and preparation for your muscles for an intense workout that will show results.
Editor's Note: Hey guys, this is Mike, the founder of PricePlow.com. I have now taken Prodigy a bunch of times, and can tell you that this stuff is the absolute REAL DEAL.
Chad, PNI's CEO has told me, this is the anti-concentrate, and he is right. While there's no nonsense filler carbs here, the scoops are big, and that's because there are incredible, WORKING dosages of the ingredients you need. The pumps are strong with this one, and I haven't had a bad workout yet.
You seriously need to try this. It puts all of those other "tiny tubs" to shame. 30 servings means 30 workouts - end of story. This is a no-bull product and nothing is micro-dosed, so you WILL get your money's worth. Now back to the rest of the product description:
Prodigy contains scientifically proven compounds -- at proven dosages -- that when taken correctly, can increase your focus and provide a more explosive session at the gym. Why waste any of that energy expelled during your workout? Prodigy will turn all of that energy into results.
Our Official Prodigy Review is up!
CJ Woodruff and I have done our official review on Prodigy. It's long, but the short story is that the energy is sustained, and the pumps are legit. This truly is the "anti-concentrate":
We liked blueberry better than watermelon, and hear fruit punch is best of all.
---
Main Ingredients in Prodigy
You're going to get efficacious dosages of each of the following tried-and-true ingredients:
Creatine
Arginine
Beta alanine
Theobromine
Citrulline
Creatinol-o-phosphate
Taurine
Agamatine
The Bonus Stuff - Orchidlean!
These compounds are pretty well-known and offered in many other performance supplements. Together they can form a concoction that awakens your body and mind - and then some. Prodigy is unique not only because of its specific formula of compounds but it also contains the extract from cymbidium and ophrys orchids known as Orchidlean. This extract raises your vasodilation level, giving you the added strength and focus to pull-off one more rep. This extract offers sustained energy - which puts this supplement apart from any other.
These ingredients, together with an explosive and powerful workout, add that upper-hand needed to change your physique. It does not matter how many times you lift those bar-bells if your body has only water to replace the cells in your swollen muscles. You could work out twice as often and still get the same results. All you will achieve is muscles that are a little sorer the next day.
Prodigy has been proven to not only perform on a metabolic level but to last. Most supplements offer a vigorous start to your workout only to let you down fifteen minutes in. Prodigy was engineered to outlast the competition and provide the same vigorous workout all the way through. You might actually catch yourself at the gym an extra half-hour after using this supplement.
---
Benefits
The benefits from Prodigy are phenomenal. Not only do you have more focus and a more intense workout, you also experience explosive reps at a higher rate. Your muscles will swell at an alarming rate and your veins rise to the surface. Are these not the results you're looking for? The effects can be experienced within 30 minutes of taking Prodigy.
Other benefits include an increase in:
Strength
Concentration
An "Appetite for Destruction"
Stamina
No one has the consistent desire and motivation to work out every single day. With the addition of Prodigy to your routine, no longer is that an issue. You will fill the "need" to go to the gym on a regular basis and pump-out the same extreme workout time and time again. Some users have even experienced the need to add more exercises to their workout routine. Other users have added more cardio for either their warm-up period or more commonly the cool-down period.
How to use it?
To use Prodigy, simply mix with water and consume thirty-minutes before starting your workout. It's strong stuff and waters down well - 12-16oz is fine, but if you love to stay hydrated, go all out with 20oz of water and it will still taste great.
The Flavors
Prodigy is available in three distinct flavors including watermelon, blueberry and fruit punch. These are all winners, but if you're looking for something different, then blueberry is the most unique since nobody has blueberry flavored pre workouts.
User Reviews
You can now see our review up top. We also have Herve Doliska of Miami Beach running a 30-day log over at the PricePlow blog, and he's loving it!
Beyond that, the reviews for this product are pretty impressive as well. Reviewers affirmed that Prodigy mixes well. There was no clumping or residue. The taste was not unpleasant and overall, the product did exactly what it should.
Other reviewers said that Prodigy kept a sustained amount of reserved energy for that all important last rep. One review stated that because of this product, he was able to run a few miles for his post-workout.
The reviewers say it all. Adding Prodigy can assist in developing the physique and discipline needed to maximize your workouts. If you're looking for more energy and the ability to tap into that reserve tank, this product will do just that. Add Prodigy to your regimen and impress not only yourself but everyone at the gym!
So if you're ready for the anti-concentrate, get Prodigy cheapest by comparing prices at the top of this page, right here on PricePlow.com
---