Quick Links to Our Prices Price History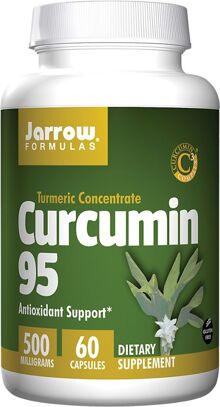 Jarrow Formulas Curcumin 95
Antioxidant Protection*
Curcumin 95™ is a botanical extract from spice turmeric root. Curcumin 95 contains 95% curcuminoids (including curcumin, demethoxycurcumin and bisdemethoxycurcumin), which are antioxidants. Specifically, curcumin and its derivatives may help protect DNA against oxidative damage induced by reactive oxygen species.*
Who Can Benefit From this Product?
Individuals who wish to support a healthy inflammatory response, help protect against oxidative damage and experience some of the other benefits commonly attributed to turmeric, may wish to add this powerful form of the antioxidant botanical to their regimen.*
What Distinguishes this Product?
Naturally Occurring Curcuminoids
Helps Protect DNA From Oxidative Damage*
Quality & Value
How Does Each Active Ingredient Function in this Product?
Curcumin/Turmeric | Supports antioxidant status and helps promote a healthy inflammatory response*
Turmeric (Curcuma longa) is a bright yellow spice and a traditional remedy that has been used in herbalism and as a condiment and flavoring since 600 BC. The rhizome (underground stem) is the part of the plant that is harvested and ground to make the spice. The key bioactive constituents found in turmeric are three kinds of curcuminoids, curcumin, demethoxyl-curcumin, and bisdemethoxyl-curcumin. All three components are structurally similar although curcumin seems to be the most effective constituent. Curcumin and these related curcuminoids are suggested to promote human health through antioxidant activity and possible modulation of 5-lipo-oxygenase (LOX) and cyclo-oxygenase (COX) enzymes.*
Antioxidant & Detoxification*
Curcuminoids (or hereinafter referred as curcumin) also exhibit strong antioxidant activity, supports cellular resistance to oxidative damage, and promotes antioxidant protection against DNA damage.* Curcumin also enhances the body's natural antioxidant glutathione levels; which in turn supports the liver in detoxification.*
Joint Health Support*
In research on people, curcumin was suggested to be useful for promoting joint health and flexibility.* In a double-blind study, curcumin was suggested to be superior to a placebo or other study compounds in supporting a healthy inflammatory response.*
Other Health Effects*
Constituents of turmeric exert several health supporting effects on the gastrointestinal tract, most likely via its antioxidant activity.* A double-blind animal trial found turmeric useful in promoting healthy digestive function.*
Via its antioxidant activity, curcumin may help promote cardiovascular health, possibly by its support for protecting lipoprotein (LDL) from oxidizing.*
Jarrow Formulas Curcumin 95™ is a natural botanical extract from the spice turmeric root. Curcumin 95 contains 95% curcuminoids (including curcumin, demethoxycurcumin and bisdemethoxycurcumin), which are scientifically well-studied antioxidants.* Specifically, curcumin and its derivatives help support DNA integrity and protect cells against oxidative damage induced by reactive oxygen species.*