Quick Links to Best Prices Price History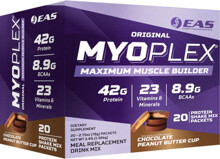 MYOPLEX
ORIGINAL
Build muscle, recover faster, grow stronger*
POST-WORKOUT
/42g
PROTEIN
/8.9g
BCAAs
/23
VITAMINS &
MINERALS
Pure protein for
pure performance
Our high-quality protein gives you the nutrients you need to build big and recover easy, preparing you for the next step before you even start. The combination of protein, BCAAs, and vitamins & minerals in Myoplex Original is ideal for building lean muscle and reducing muscle breakdown caused by a tough workout. It can also be used as a nutritious meal replacement.*
STEVEN LOPEZ
EAS ATHLETE
WHY CHOOSE
MYOPLEX
ENHANCE PERFORMANCE. MAXIMIZE RESULTS.
The average person sees the physique, but doesn't understand it's your discipline that makes you different. That's why Myoplex is for the truly committed. Even the best ingredients are nothing if the same dedication doesn't go into the workout. A little better is never your goal—it can't be ours.
So we've adapted. Expanded. Honed. We're putting all of our research and expertise into the ingredients that help you outperform. Before, during, even while you're asleep. And because you're never done, neither are we.
This is you. This is us. And the proof? A body transformed.