Quick Links to Best Prices Price History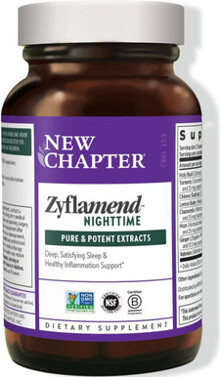 New Chapter Zyflamend Nighttime
Zyflamend Nighttime combines multiple time-tested herbs, including Chamomile, Hops and Lemon Balm to safely and gently support normal deep and restful sleep.*
Zyflamend Nighttime's proprietary herbal blend delivers the full-spectrum of whole herbs, not isolated compounds.
The multi-herbal that may be as important as your daily multivitamin, Zyflamend Nighttime delivers a multitude of naturally occurring compounds.
Whole-food ingredients, including Ginger and Turmeric, help support normal antioxidant function.*
Our full-spectrum process extracts precious plant compounds to preserve Nature's full complexity, delivering a super-pure, super-potent herbal extract.