Quick Links to Best Prices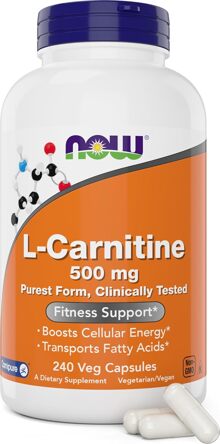 Purest Form Clinically Tested L-Carnitine
Transports Fatty Acids
Boosts Cellular Energy*
Vegetarian Formula
L-Carnitine is a non-essential amino acid that helps to maintain overall good health by facilitating the transfer of fatty acid groups into the mitochondrial membrane for cellular energy production. It naturally occurs in red meat and other animal source foods, but we recommend supplementation to obtain optimal levels of this excellent amino acid. L-Carnitine is classified as an amino acid, although it is not an amino acid in the classic sense. Amino acids are generally used by the body for protein synthesis and/or as a neurotransmitter.*
Carnitine (actually more closely related to the B vitamins) is primarily used to facilitate the transport of long-chain fatty acids into the mitochondria of cells for energy production. This process provides muscular energy by burning fat, and also prevents fatty build-up around vital organs.*
Natural Carnitine is found primarily in red meats, so vegetarians may need to supplement to ensure healthy levels in their bodies. Our Carnitine is a synthetic product manufactured in a laboratory using bacterial synthesis, and is considered vegetarian due to the absence of any animal sources or by-products.
Pure L-Carnitine is an amino acid that normally attracts water which can cause it to deteriorate rapidly. We use a tartrate form to help ensure that this product maintains stability and full potency.
Now L-Carnitine is also available in 1000mg Tablets, Liquid Carnitine, Triple Strength Liquid Carnitine, and Acetyl L-Carnitine.
Consider taking this product in combination with NOW CLA and NOW Lecithin Triple Strength.
CANADA CUSTOMER NOTICE: Supplements containing L-carnitine can NOT be shipped to Canada due to Canadian laws. Customers in other countries need to check with their local laws.