Quick Links to Best Prices Price History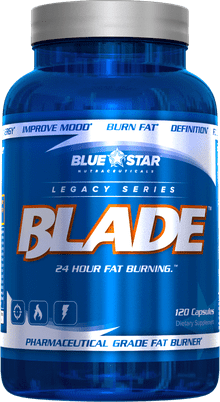 Blue Star Nutraceuticals Blade
BLADE
FOCUS*
FAT BURNING SUPPORT*
ENERGY*
HIGHLIGHTS
SUPPORTS FAT LOSS*
As long as you maintain your caloric intake at appropriate levels along with exercise, your fat loss will be sustainable.*
BURN THE FAT & LEAVE THE MUSCLE*
Blade supports your metabolism so that you burn fat without jeopardizing lean muscle, in conjunction with diet and exercise.*
BETTER BY DESIGN.
FAQS
HOW DO I DOSE BLADE FOR BEST RESULTS?
Always begin with just one capsule in a 24-hour period to assess tolerance. Slowly increase your dose to two servings a day - one serving upon rising and one serving later in the day but not within five hours of bedtime. Always consume eight ounces of water with each serving.
HOW FAST WILL I SEE RESULTS?
You will feel Blade kick in almost immediately. It supports your metabolism and fat loss goals when used in conjunction with a proper diet and exercise program.*
DO I NEED TO DIET OR WORKOUT WITH BLADE?
Sitting on the couch and eating junk food is not a realisitic approach to weight loss. Following a sensible nutrition and exercise plan will only amplify Blade's results.*
DO I NEED TO TAKE A BREAK FROM BLADE?
Most users choose to use Blade for up to 16 weeks before taking a four week break and repeating use.
Blue Star Nutraceuticals is a dietary supplement company that designs, develops, manufactures, markets and retails the best sports nutrition products in the world. We follow the strictest manufacturing practices ensuring potency, purity and safety of our products. A brand synonymous with elite level athletes, performance and physiques, delivering superior results to people just like you. What you notice as a user is that our supplements have a lot more pop. They're just that much stronger, and you feel them that much quicker.*