Warning: This product is not currently available at any store.
Click the button above and PricePlow will email you when the first store has it in stock!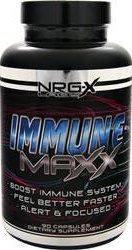 You need Immune MaXX cause hey, it's a germy world out there!
We are all busy these days, add in fast food, stress, lack of sleep and you have a recipe for a low immune system; which can lead to you being sick and staying sick longer. Immune MaXX was formulated to boost your immune system naturally and help keep you healthy longer.

Loaded with vitamins in our VitaMaXX and Anti-Stress MaXX Blends
plus our exclusive Organic Five Star Mushroom Blend and our Immune MaXX Blend with Astragulus Root, Echinacea Angustifilia and Siberian Ginseng Super Concentrate not only will you fight off sickness but if you are already sick, you'll get better faster.

Use Immune MaXX everyday and keep your immune system
and body working in peak performance!

Supplement Facts:
Servings per container: 30
Serving Size: 3 capsules
Anti-Stress MaXX Blend
Vitamin B-3 (from inositol hexanicotinate) 5mg 25%
Vitamin B6 (from pyridoxine HCL) 5mg 250%
Vitamin B-5 (as d-calcium pantothenate) 50mg 500%
Vitamin B-12 (from methylcobalamin) 1000mcg 1667%
N-Acetyl L-Tyrosine 100mg
VitaMaXX Immune Blend
Vitamin A (as palmitate & beta-carotene) 6000iu 120%
Vitamin C (from ascorbic acid) 800mg 1333%
Vitamin D3 (as cholecalciferol) 1000iu 250%
Vitamin E (from succinate) 30iu 50%
Selenium (from l-selenomethionine) 100mcg 145%
Zinc (from picolinate) 15mg 100%
Lycopene 3mg
Citrus Bioflavonoids 50% Complex (containing orange, lemon, grapefruit, rutin, hepseidin) 50mg
Organic Five Star Mushroom Blend 180mg
Organic Coriolus Versicolor Mushroom Biomass, Organic Reishi Mushroom Biomass, Organic Maitake Mushroom Biomass, Organic Shitake (lentinus edides) Mushroom Biomass, Organic Agaricus Blazei Mushroom Biomass
Immune MaXX Blend 935mg
Astragulus Root Extract 4:1, Colostrum 30 IgG, Echinacea Angustifilia Herb Extract 4:1, Elderberry Extract 10:1, Lomatium Dissetum, Olive Leaf Extract (15% oleuropein), N-Acetyl L-Cysteine, Amla Fruit Extract (40% tannins), Siberian Ginseng Extract Super Concentrate 50:1, Turmeric Extract Concentrate 10:1, Raw Bovine Thymus Freeze-Dried (Certified BSE Free), Ginger Root Extract Concentrate 4:1, Quercetin
Other Ingredients: Rice Flour, Magnesium Stearate, Gelatin, titanium Dioxide.
Directions: Take 1 Serving (3 Capsules) 1-2 times per day along with meals everyday to strength your immune system and keep from getting sick. OR If you are already sick use Immune MaXX to speed recovery & increase mental alertness by taking 2 servings, 2 twice a day.
Note: Manufacturers continually change product specifications. While we try our best to keep product descriptions up to date, they do not necessarily reflect the latest information available from the manufacturer. We are not responsible for incorrect or outdated product descriptions and/or images.

These statements have not been evaluated by the Food and Drug Administration. This product is not intended to diagnose, treat, cure, or prevent any disease.