Warning: This product is not currently available at any store.
Click the button above and PricePlow will email you when the first store has it in stock!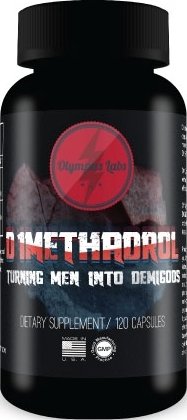 Olympus Labs D1METHADROL
D1METHADROL by Olympus Labs is the purest, strongest, most potent, largest quantity Dimethandrostenol available. If you are looking for extreme size, muscle and strength gains look no further; Olympus Labs is proud to present D1METHADROL! This compound is non-estrogenic and will produce very lean, dry muscle gains. Dimethandrostenol is a very anabolic compound that is a perfect choice for lean mass and strength gains.
D1METHADROL is specifically engineered as a catalyst for increasing lean muscle size, hardening muscles and attaining strength comparable to a demigod!
Olympus Labs D1METHADROL features 120 capsules, each capsule containing 10mg of Dimethandrostenol; an unheard feat in the prohormone world. D1METHADROL gives you 1200mg of Dimethandrostenol per bottle, at an unbeatable value. D1METHADROL is an action packed bulking prohormone engineered to sculpt your body to the level of a demigod. D1METHADROL is the ultimate bulking prohormone.
Olympus Labs D1METHADROL Key Benefits
Rapid Strength Increases

Fuller and Harder Muscles

Increased Lean Dry Mass

Increased Muscle Endurance and Recovery

Positive Effects on Sex Drive/Libido