Quick Links to Best Prices Price History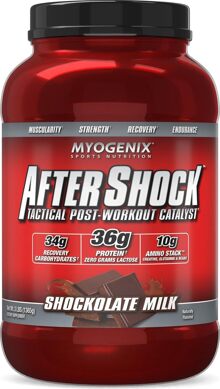 After intensive research and field testing, Myogenix has introduced an advanced strength and recovery formula. AfterShock Recovery. Designed to target every aspect of muscle growth, strength, speed, recovery, and over-all enhanced performance, AfterShock specifically keeps the needs of elite athletes in mind, who demand an intense nutritional profile. Enhance athletic performance and see results!*
Anabolic Window: The Key To Unlimited Muscle Growth!
The anabolic window is a 30 minute period of time' immediately post exercise' when your body is primed for muscle growth' if given the proper nutrients. AfterShock contains these vital nutrients' absolutely critical for muscle growth' glycogen replenishment' and recovery.
Each serving of AfterShock contains:
34g Anabolic Whey Protein (100% Lactose Free' Fast Digesting Proteins With Di & TriPeptides)
30g Mass Building Carbohydrates (Rapid Absorption' Glycogen Replenishing Carbohydrates)
8g Amino Stack- Creatine & Glutamine (High Absorption' Patented Magnesium Creatine Chelate and Magnesium Glycyl Glutamine)
7.25g Branched Chain Amino Acids (Leucine' Isoleucine & Valine)
1500mg Joint Repair Formula (Glucosamine' Chondroitin & MSM)
1500mg Antioxidant Blend (Alpha Lipoic Acid' Vitamin C' and B-Vitamins.