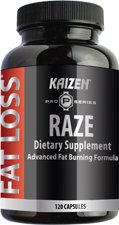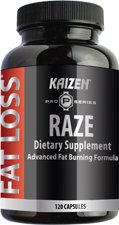 Raze - Advanced Fat Burning Formula Description from KAIZEN
N-ACETYL L-TYROSINE is an acetylated derivative of the essential amino acid L-Tyrosine. N-Acetyl L-Tyrosine, which is converted in the body to L-Tyrosine, is 20 times as soluble in water than L-Tyrosine itself. Acetylation enhances the solubility and stability making it more rapidly absorbed and bioavailable form of this amino acid. L-Tyrosine can be converted in the brain into the neurotransmitters Dopamine and Norepinephrine (Noradrenaline), the hormones that are depleted by stress or extensive exercise. By replenishing these hormones in the brain, mental energy levels are enhanced and a feeling of contentment often occurs.

CAFFEINE benefits may include temporary restoration of mental alertness or wakefulness when experiencing fatigue or drowsiness.

YERBA MATE is a stimulant with an ingredient known as mateine. The mateine in Yerba Mate can help increase metabolism and energy thereby burning fat in the process. Even though Yerba Mate is a stimulant it can help you have a more restful sleep by increasing the supply of oxygen to the heart, thus increasing circulation and lowering blood pressure.

EVODIA RUTAECARPA has many purposes, it has weight reducing effects due to its thermogenic properties while enhancing the fat burning process, it has been suggested to increase metabolism and promote higher energy levels.

GUGGUL EXTRACT stimulates the thyroid gland; the thyroid gland hormone controls the amount of calories you burn each day, when your metallic rate slows due to diet you burn fewer calories. Stimulating the activity of the thyroid gland brings you metallic rate back to where it should be, making you burn more calories each day and making it highly effective at accelerating fat loss. 1,3-DIMETHYLPENTYLAMINE HCL (DMP) also known as geranamine, is a mild stimulant derived from the geranium plant. DMP is thought to have stimulant type effects that provide energy and focus to the user. It is often used in dietary supplements for weight
Supplement Facts
Serving Size: 2 Capsules
Servings per Container: 60
Ingredient
Amount
% Daily Value**
Proprietary Thermogenic Blend
705mg
-N-Acetyl L-Tyrosine, Caffeine Anhydrous, Yerba Mate, Evodia Rutaecarpa, Guggul Extract
-1,3-Dimethylpentylamine HCL
** Percent Daily Value is based on a 2000 calorie diet. Your daily values may be higher or lower depending on your calorie needs.
† Daily Value not established.

Ingredients:
Other Ingredients: Gelatin, Brown Rice Flour, Magnesium Stearate and Water
Manufacturer's Directions
Take 2 Capsules with an 8oz glass of water 1 to 2 times daily, 30 minutes before meals and/or exercise. Always begin use with half the recommended dose (1 capsule 1 to 2 times daily) to determine tolerance. Do not take within 4 hours of bedtime. Never exceed 6 capsules in a 24-hour period.
Manufacturer's Disclaimer
Not for use by individuals under the age of 18. Do not use this product if you are pregnant or nursing, if you are at risk or are being treated for high blood pressure, depression, heart, kidney, thyroid or psychiatric disease. Consult a healthcare professional before use if you are taking a MAO inhibitor or any other prescription drugs. Discontinue use and consult a healthcare professional if dizziness, severe headache, shortness or breath, nervousness, heart palpitations or similar symptoms occur. Keep out of reach of children.