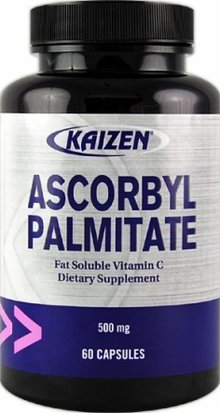 Kaizen Ascorbyl Palmitate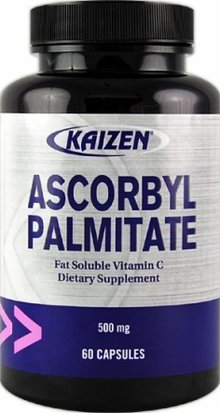 Kaizen Ascorbyl Palmitate
Ascorbyl Palmitate is a fat (lipid) soluble Vitamin C,
which means it is more stable and won't flush out of your system like water soluble Vitamin C (Ascorbic Acid) supplements.* Because of its solubility in fats, Ascorbyl Palmitate may be more effective as an antioxidant in reducing lipid peroxidation than water soluble Vitamin C.* You may require less dosage, because it is not being wasted.* Ascorbyl is the Vitamin C part. Palmitate is the fat soluble part. The two together are a chemical bond making one molecule. 500mg of Ascorbyl Palmitate supplies 225mg of Vitamin C.
Vitamin C has many important functions. The main role of Vitamin C is in the manufacture of collagen.* This protein forms the basis of connective tissue, the most abundant tissue in the body, and acts as a cementing substance between cells. It helps support healthy blood vessels, bones, joints, organs and muscles.
Vitamin C is critical to immune function and is a powerful antioxidant.* Vitamin C also plays a role in the manufacture of neurotransmitter. It is necessary for the conversion of tryptophan to serotonin, and of tyrosine to dopamine and adrenaline. Vitamin C is important in the synthesis of adrenal hormones and is depleted from the adrenal glands in times of stress. Vitamin C is involved in the manufacture of carnitine, a substance necessary for the production of energy from fatty acid in cells. It is necessary for the activity of the enzyme system, which metabolizes drugs in the body. It is also necessary for iron absorption and plays a role in the conversion of cholesterol to bile acids for excretion.
What does it do?
More Stable than Water Soluble Supplements*
Supports Healthy Blood Vessels, Bones, Joints, Organs & Muscles*
Critical to the Immune Function*
Powerful Antioxidant