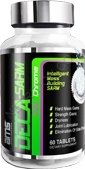 Advanced Muscle Science DecaSARM RDe Chrome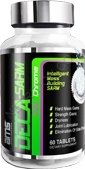 Advanced Muscle Science DecaSARM RDe Chrome
What is DecaSARM RDe?
A powerful naturally occurring (dietary ingredient) metabolite of DHEA combined with a cyclodextrin delivery agent, patented F-Melt disintegrant and a new effervescent (e) absorption matrix that all makes up the strongest, safest, non-liver toxic rapid dissolving lean and dry mass hardening supplement available. The addition of the SARM ingredient naringenin – virtually eliminates any/all negative side effects associated with the active compound. DecaSARM has nearly twice the active 19Nor-Androstene-3b-ol, 17-one dose as Decavol RDe making it a mega potent mass builder.
Acquire Hard, Dry & Striated Lean Mass
Establish new Max Lifts at Your Gym with Strength Gains
New RDe Delivery Deals 30% More Target Hormone
Virtual Elimination of Negative Side Effects with SARM
Nearly Double the Active Hormone Dose Per Serving
100% Safe and Legal
Non-Liver Toxic
Easy to Stack with other AMS Prohormones for Maximum Gains
What is a SARM?
A (S)elective (A)ndrogenic (R)eceptor (M)odulator. The function of a SARM (obtained by the use of naringenin) is to selectively activate anabolic activity in muscle, thus eliminating the negative side effects associated with testosterone. Hence the new category title – Intelligent Pro Anabolics.
What is RDe?
(R)apid (D)issolve (e)ffervescent or RDe is the new and improved delivery matrix that ensures the maximum quantity of active 19Nor-Androstene-3b-ol, 17-one compound reaches it's essential anabolic location within the body (skeletal muscle tissue). This is so extremely important because the more active compound that reaches the target location in the body – the more converted compound is available to positively effect skeletal muscle tissue growth.
Before the new effervescent matrix was discovered
– bioavailability of the active hormone was an industry leading 69%, with the former Rapid Dissolve (RD) delivery. With the addition of the new triple-ingredient effervescent matrix – bioavailability increases by an additional 30%.
Why is RDe Superior to Common Oral Capsules?
RD delivered 69% bioavailability of the active hormone while oral capsule bioavailability is a mere 1.5%. This means that a 100 mg capsule of 19Nor-Androstene-3b-ol, 17-one would only deliver 1.5 biologically active milligrams. Conversely, a 20 mg RD tablet delivers 14 biologically active milligrams. The differential is colossal.

If that weren't enough, the new effervescent (e) matrix
that completes the RDe delivery formula ensures an additional 30% bioavailability of the active hormone for a near perfect 99% use of the active compound – the most efficient oral prohormone ever introduced to the market.
Supplement Facts:
Serving Size: 1 RDe Tablet
Servings Per Container: 60
Amount Per Serving:
DecaSarm RDe Proprietary Blend 66mg
19-NorAndrost-4ene-3b-ol, 17-one Hydroxypropyl-beta-cyclodextrin
Rapid Dissolve Agent 400mg
F-Melt
Effervescent Absorption Matrix 45mg
Potassium Bicarbonate, Sodium Bicarbonate, Tartaric Acid 20mg
Other Ingredients: Natural & Artificial Flavors, Natural Peppermint Flavor.
Directions: As a dietary supplement, take 2 doses per day - orally, hold for 30 seconds, then swallow. Use in divided doses 8 hours apart.
Note: Manufacturers continually change product specifications. While we try our best to keep product descriptions up to date, they do not necessarily reflect the latest information available from the manufacturer. We are not responsible for incorrect or outdated product descriptions and/or images.
These statements have not been evaluated by the Food and Drug Administration. This product is not intended to diagnose, treat, cure, or prevent any disease.