Warning: This product is not currently available at any store.
Click the button above and PricePlow will email you when the first store has it in stock!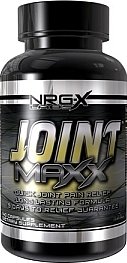 Quick Joint Pain Releif-Long Lasting Formula!

Everyone from time to time suffers from joint pain but the good news is that you don't have to any longer; Joint MaXX from NRGX Labs is the answer to joint pain. We use time tested and clinically proven ingredients to produce maximum results in a VERY short amount of time. We are so confident in Joint MaXX that we offer a "5 Days to Relief Guarantee" - if you take Joint MaXX as directed for 5 days and don't experience Joint Pain relief just send the bottle back for a FULL REFUND!!

Let's check out the Joint MaXX Complex Blend:

Glucosamine - Joint MaXX uses a tri-Glucosamine blend for maximum effectiveness. Glucosamine is a dietary supplement used for treating joint pain and osteoarthritis. According to the National Institutes of Health (NIH), glucosamine supplements have proven to be effective at treating osteoarthritis of the knee. Glucosamine has been shown to stimulate the building of proteoglycans, which provide the structure, or threads, to the extracellular matrix. They also bind with water and regulate the movement of molecules throughout the matrix. If proteoglycan content decreases, the cartilage will become susceptible to degradation.

Boswellin Serrata Extract - In Ayurvedic medicine Indian frankincense (Boswellia serrata) has been used for hundreds of years for treating arthritis. Extracts of Boswellia serrata have been clinically studied for osteoarthritis and joint function, particularly for osteoarthritis of the knee. Positive effects of Boswellia in some chronic inflammatory diseases including rheumatoid arthritis, bronchial asthma, osteoarthritis, ulcerative colitis and Crohn's disease have been reported.

Cissus Quadrangularis Extract - Has been used as a medicinal plant since antiquity. The siddha medicine mentions it as a tonic and analgesic, and prescribes its use to help heal broken bones, thus its name asthisamharaka (that which prevents the destruction of bones). Has also been used to treat osteoporosis, asthma, cough, hemorrhoids, and gonorrhea. In the traditional medicinal systems of India it has been reported to possess not only bone fracture healing, but also It is said to have antibacterial, antifungal, antioxidant, anthelmintic, antihemorrhoidal and analgesic activities. It contains a rich source of carotenoids, triterpenoids and ascorbic acid. Compounds that act as receptor antagonists of glucocorticoids have reduced the healing time of broken bones 30 to 50 percent in clinical trials. It has also been used to treat obesity and associated oxidative stress. Its bactericidal effects on Helicobacter pylori hold promise as an effective treatment of gastric ulcers and preventative of stomach cancer in conjunction with NSAID therapy.
A weight loss supplement containing Cissus quadrangularis with several dietary supplements (green tea, soy, selenium, chromium,and B vitamins) was evaluated in an 8-week clinical trial. The supplement helped reduce body weight by 4-8% ( placebo 2.4%) a clinically significant weight loss.

Hyaluronic Acid 99% - Until the late 1970s, hyaluronan was described as a "goo" molecule, a ubiquitous carbohydrate polymer that is part of the extracellular matrix. For example, hyaluronan is a major component of the synovial fluid, and was found to increase the viscosity of the fluid. Along with lubricin, it is one of the fluid's main lubricating components. Hyaluronan is an important component of articular cartilage, where it is present as a coat around each cell (chondrocyte). When aggrecan monomers bind to hyaluronan in the presence of link protein, large highly negatively-charged aggregates form. These aggregates imbibe water and are responsible for the resilience of cartilage (its resistance to compression). The molecular weight (size) of hyaluronan in cartilage decreases with age, but the amount increases.


Everyone from time to time suffers from joint pain
Let's check out the Joint MaXX Complex Blend:Glucosamine
Boswellin Serrata Extract Cissus Quadrangularis ExtractHyaluronic Acid 99%
FDA: These statements have not been evaluated by the Food and Drug Administration. This product is not intended to diagnose, treat, cure, or prevent any disease.

Shop our 100% secure server and get your supplements at the lowest prices everyday! NOBODY beats our overall price.

FDA
Shop our 100% secure server and get your supplements at the lowest prices everyday! NOBODY beats our overall price.