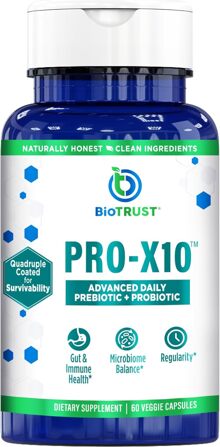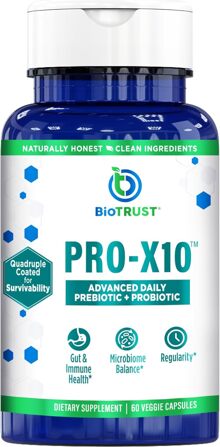 Micro-encapsulation Technology. A substantial number of conventional probiotics will be DEAD before you take them or killed off in your stomach, never making it to the gut where you need them. Pro-X10 is formulated with the patented, research-backed Microencapsulation Technology, which protects the probiotics on the shelf and through the digestive tract, ultimately delivering up to 5 TIMES more LIVE probiotics to the gut than conventional probiotics.

Advanced 6-Strain Formula. Pro-X10 contains a unique blend of 6 "super strains" of probiotics, which help ward off bad bacteria, rebalance the gut, enhance digestion, support immune function, and more.

Formula with Prebiotics. Pro-contains PreforPro, a non-fiber, research-backed prebiotic shown to enhance the growth of beneficial bacteria in as little as 5 HOURS. And because it is a non-fiber prebiotic, it doesn't cause gas or other digestive issues like traditional prebiotics.

Two small, easy-to-swallow capsules provides the equivalent of over 50 billion LIVE probiotics daily.

Quality Guarantee. At BioTrust, we are committed to being the best. Pro-X10 is manufactured in a GMP-certified facility and undergoes 3rd party lab testing to ensure purity, potency, safety, and your results. No sugar and no artificial sweeteners, flavors, colors or preservatives added. Gluten-free, soy-free, dairy-free, and non-GMO.
More