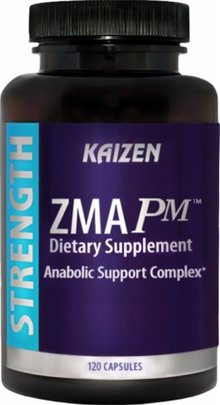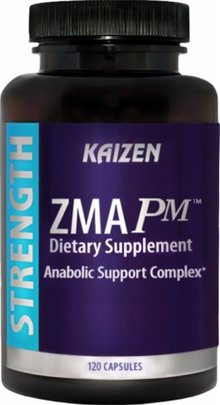 KAIZEN ZMA PMTM is a natural formula which supports testosterone levels, IGF-1 levels all within normal ranges without the undesirable side effects.* ZMA PM provides athletes with zinc, magnesium, and vitamin B6. Active athletes have greater needs than sedentary people and these demands can sometimes lead to nutrient deficiencies. We use the SNAC Systems patented ZMA formula. Taking ZMA PM has shown to support an increase in physical endurance, enhanced muscle strength, recovery and growth as well as support hydration.* It may also aid in a deeper and more restful sleep.*
These results are achieved through its unique combination of ingredients:
ZINC
Supports testosterone levels in a normal range and promotes muscle growth and repair. Zinc with Vitamin B6 supports normal cortisol levels, this is commonly known as the catabolic "STRESS" hormone as it is involved in the breakdown of muscle tissue. Zinc may actually inhibit muscle catabolism by reducing cortisol levels.*
MAGNESIUM
A major mineral that is essential for the production of energy. Studies suggest that Magnesium can support a reduction in muscle spasms and cramps as Magnesium deficiencies can cause these issues. It has also been suggested to support muscle strength.*
ANABOLIC SLEEP BLEND
Promotes relaxation and deep sleep, allowing for recovery and the proper state for maximum endocrine response.
KAIZEN ZMA PM
Contains L-Dopa, L-Theanine, and Lemon Balm Extract all efficaciously dosed, which will further increase your desire to sleep allowing your body to rest for maximum anabolic effect. Within 90 minutes of taking ZMA PM circulating Zinc and Magnesium reach their peak, providing the essential minerals necessary to support muscle growth and repair.*
Benefits may include:
Improved: Free testosterone levels*
Higher IGF-1 Levels*
Increase in Strength*
Reduces Muscle Catabolism*
Supports Endurance*