Quick Links to Best Prices Price History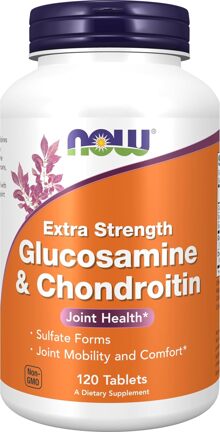 NOW Glucosamine & Chondroitin
Glucosamine & Chondroitin ES
Joint Mobility & Comfort*
Sulfate Forms
Joint Health*
Non-GMO & Gluten Free
Available In Tablets
Glucosamine and Chondroitin are naturally occurring structural components that have recently enjoyed growing popularity. Glucosamine is an amino sugar derived from the chitin of shellfish and is used by the body to support healthy joint structures.* Chondroitin complements Glucosamine and works synergistically with it to provide optimal nutritional support.*
What is glucosamine? Glucosamine is composed of glucose and glutamine (an amino acid). It is utilized by chondrocytes to form glycosaminoglycans (GSG´s) and proteoglycans. Both of these constituents attract and bind water into cartilage, increasing resiliency.
How is glucosamine manufactured? Glucosamine is supplied mostly by China. The shells of shrimp and crabs have their proteins and minerals removed producing Chitin or poly N-acetylglucosamine. Manufacturers use acid with a depolymerizing and deacetylating process to produce glucosamine hydrochloride or glucosamine sulfate.
Since sales for Glucosamine and Chondroitin products have been reported at over $1 billion per year; the National Institute of Health is conducting studies to see the effectiveness of the product.
What is the source of your Chondroitin, and is it BSE free? NOW Chondroitin is derived from bovine tracheal tissue. The cattle are raised in China. As with all of our raw materials, we screen Chondroitin very carefully for the presence of any undesirable microbes, and is BSE Free.