Quick Links to Best Prices Price History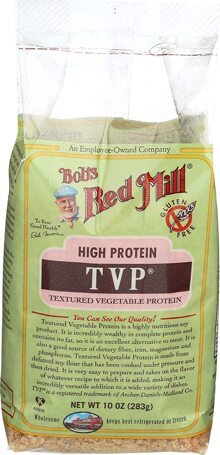 Bob's Red Mill Textured Vegetable Protein
Bob's Red Mill TVP Texturized Vegetable Protein Description
High Protein
Gluten Free
Kosher
Textured Vegetable Protein is a highly nutritious soy product. It is incredibly wealthy in complete protein and contains no fat, so it is an excellent alternative to meat. It is also a good source of dietary fiber, iron, magnesium and phosphorus. Textured Vegetable Protein is made from defatted soy flour that has been cooked under pressure and then dried. It is very easy to prepare and takes on the flavor of whatever recipe to which it is added, making it an incredibly versatile addition to a wide variety of dishes.
Directions


How to Prepare TVP

To rehydrate the granules, pour 7/8 cup boiling water, vegetable broth or stock over 1 cup TVP. Stir and let stand 5 to 10 minutes.

To cook in a microwave, cover tightly with plastic wrap and cook in high for 5-6 minutes; check after 2 minutes and add a little more liquid if needed. You can prepare a double batch of chunks, enough for 2 or 3 recipes, and the cooked TVP will keep in the refrigerator several days. Or freeze some to thaw later in a microwave or in the refrigerator. Once TVP has been rehydrated, it must be kept under refrigeration.

Keeps best refrigerated or frozen.
Free OfGluten.