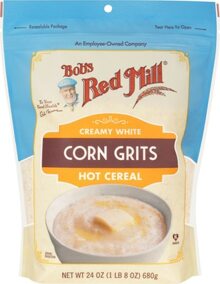 Bob's Red Mill White Corn Grits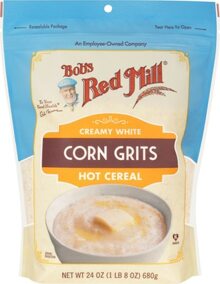 Bob's Red Mill White Corn Grits
Bob's Red Mill White Corn Grits Description
Southern Style White Corn Grits
Also Known as Polenta
Kosher
An Employee-Owned Company
You Can See Our Quality
To Your Good Health ~ Bob Moore
White corn grits are a traditional staple of the American South. Serve these rich, flavorful grits as cereal with milk and honey, or top with butter, cheese, marinera or gray as a satisfying side or entree.
Bob's Red Mill Corn Grits are Southern-style grits make from the finest white corn. The pure corn flavor of these delicious grits makes them ideal for shrimp and grits, cheese grits, grit cakes and porridge.
Dear Friends,
Corn is perhaps the most traditional American foods: domesticated thousands of years ago, it's been a cultural and nutritional mainstay ever since. At Bob's Red Mill, we use only the finest-quality white corn to create our Southern-style corn grits. Their rich flavor and incredible texture make it ideal for porridge, polenta and any number of entrees. We hope you enjoy them as much as we do.
To your good health,
Bob Moore
Directions


Basic Recipe for Quick Grits

3 cups Water

½ tsp Salt

1 cup Bob's Red Mill White Corn Grits

Bring water and salt to a boil in a medium pot. Add corn grits and reduce heat to low. Cook for about 5 minutes, stirring occasionally, until liquid is absorbed and grits are creamy. Remove from heat, cover and let stand for 1-2 minutes.

Makes 4 servings

Variations:

• Creamy Grits: Make basic recipe, using 2 cups water and 2 cups milk, and cook for 30 minutes.

• Cheesy Grits: Make basic recipe and cook for 30 minutes stirring in 1 cup shredded cheddar before serving.

• Parmesan Polenta: make basic recipe and cook for 30 minutes, stirring in 1 cup shredded parmesan before serving.

• Fried Polenta: Transfer Parmesan Polenta to a plastic-lined 8 x 8 inch pan and chill at least 2 hours or overnight. To dry, unmold polenta and cut into 12-16 rectangles. Heat oil, ½-inch deep, to 350°F. Working in batches, fry polenta until golden, about 3-5 minutes per side. Remove from oil using a slotted spatula or spoon and let drain on paper towels. If necessary, keep warm in a 200°F oven. Serve with tomato sauce or your favorite toppings.