Quick Links to Best Prices Price History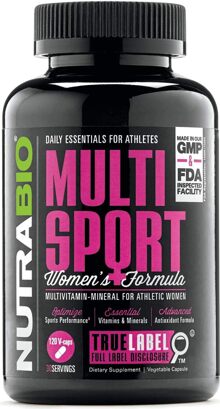 NutraBio MultiSport for Women
Product Description
MultiSport for Women
MultiSport for Women delivers all the essential vitamins and minerals in one pill that women athletes need to fulfill their nutritional needs and to give their best at the gym. This premium-quality nutritional supplement contains 33 different vitamins, minerals, and anti-oxidants in quantities exceeding the minimum Recommended Daily Intake (RDI) to fulfill the additional nutritional needs arising due to strenuous training and sports supplements intake.
What Does MultiSport for Women Contain?
MultiSport for Women is a complete multivitamin for women. The vitamins, minerals, and anti-oxidants contained in this unique nutritional supplement not only work as catalysts for metabolic reactions, but also act as free radical scavengers and protect your vital organs from damage caused by them.
MultiSport for Women contains the following ingredients:
-Vitamin A
-Vitamin C
-Vitamin D
-Vitamin E
-Vitamin K
-Thiamin
-Riboflavin
-Niacin
-Pyridoxine
-Folic acid
-Vitamin B12
-Biotin
-Pantothenic Acid
-Calcium
-Iron
-Phosphorus
-Iodine
-Magnesium
-Zinc
-Selenium
-Copper
-Manganese
-Chromium
-Molybdenum
-Potassium
-N-Acetyl Cysteine
-Alpha Lipoic Acid
-Choline
-Bioflavonoids
-Inositol
-Vanadium
-Bioperine
-Silica
-Boron
---
What Are The Benefits of Using MultiSport for Women?
MultiSport for Women goes beyond the basics and fulfills all the micronutrient deficiencies to ensure that you gain the strength and energy you need to train harder and achieve your desired level of health and fitness.
By using this multivitamin, you can:
-Avoid the gastrointestinal side effects that are commonly associated with nutritional supplements. This added benefit is attributed to the presence of black pepper extract.
-Fill any micronutrients gaps formed due to your use of carbs and fat-restricted diet.
-Get additional energy to train harder and improve your athletic performance.
---
How to Use MultiSport for Women?
The recommended daily dose of MultiSport for Women is 4 capsules, which should be divided into two doses and taken with meals.
---
Are There Any Side Effects of MultiSport for Women?
Taking this supplement in large doses or on empty stomach may result in gastrointestinal side effects, and in rare cases, vitamin or mineral toxicity. The multivitamin is suitable for women with enhanced nutritional needs only.
---
Product Specifications
-Category: Multivitamins
-Manufacturer: NutraBio
-Servings per Container: 30
-Serving Size: 4 vegetable capsules
-Each serving contains: 33 different vitamins, minerals, and anti-oxidants