Quick Links to Best Prices Price History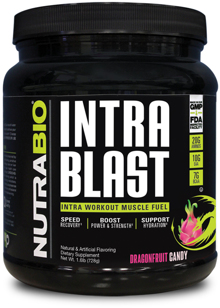 Intra Workout Muscle Fuel
Speed Recovery - Boost Power & Strength - Support Hydration

Vegan - Allergen Free - Gluten Free - BSE/TSE Free

NutraBio INTRA BLAST is an essential amino acid (EAA) powerhouse loaded with 23 grams of clinically dosed active ingredients designed to fuel performance, blunt fatigue, and accelerate recovery. Intra Blast contains over 10 G of all 9 essential amino acids including 7.2 G of BCAAs along with 10 G of glutamine, OKG, taurine, betaine and electrolytes designed to stimulate muscle protein synthesis, promote muscle growth, enhance recovery, and decrease muscle soreness from the most intense training sessions. INTRA BLAST has no fillers or excipients and no proprietary blends, just 23 G of therapeutically dosed ingredients designed to fuel your performance and accelerate your recovery.
NutraBio® was founded in 1996 with the goal of providing our customers with the most effective, clean and honest supplements. 15 years ago we revolutionized the supplement industry by introducing four quality commitments: (1) NO proprietary blends and full label disclosure; (2) NO fillers, excipients, or additives; (3) Full therapeutic dosages of every ingredient; and (4) to manufacture our own products so we could control every aspect of quality. We don't compromise on quality so you don't have to compromise on results.