Quick Links to Our Prices
How does this work and how do stores get listed? See our disclosure below to learn more. Price History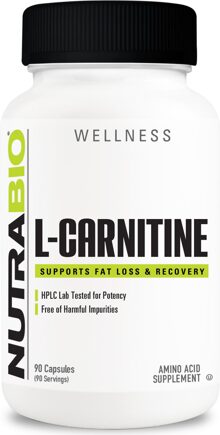 NutraBio Kosher L-Carnitine Free Form 500 Mg Description:


Benefits of NutraBio L-Carnitine (500mg):
• Aids transportation and conversion of fats into energy.
• Boosts energy production and enhances endurance.
• Supports fatty acid metabolism.
• Increases maximal work output and exercise tolerance.
• Supports healthy cholesterol metabolism.
• Helps improve strength and growth of muscle.

L-Carnitine supports fat metabolism and energy production: L-Carnitine is found abundantly in muscle tissue and functions primarily to regulate fat metabolism and transport fatty acids into the mitochondria of cells, where they are oxidized and converted to energy. L-Carnitine is essential to the transportation of long-chain fatty acids into the cells where the fats can be converted to energy. Recent research indicates Carnitine plays an important role in converting stored body fat into energy and may help energize the heart.

L-Carnitine promotes fat burning, energy surges and muscle fatigue resistance: Studies suggest that athletes may need more L-Carnitine than their body can produce. This can have an effect on your performance, since L-Carnitine has the potential to improve fat metabolism, increase endurance, and enhance the normal functioning of the heart. During intense exercise, L-Carnitine may help reduce post-exercise lactic-acid levels and increase maximal work output. Studies show it may even preserve muscle glycogen during exercise, keeping you energized longer.

The typically recommended dose for L-Carnitine ranges from as little as 500 milligrams per day to as much as 3 grams or more per day, depending upon individual needs. Clinical studies, however, have consistently shown that the effective beneficial dose to be towards the higher ranges of these suggested doses. For most people 2 or 3 grams per day taken in two doses will be sufficient for beneficial results for either weight loss (fat burning) or increased energy (reducing fatigue symptoms). For bodybuilders and performance athletes, between two and four grams of L-Carnitine should be taken one hour before exercise.
Disclaimer:
These statements have not been evaluated by the Food and Drug Administration.This product is not intended to diagnose, treat, cure, or preventany disease.