Quick Links to Best Prices Price History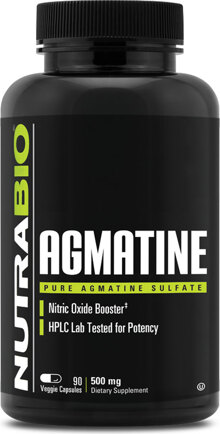 NutraBio Agmatine Sulfate
NutraBio Kosher Agmatine Sulfate 500 Mg Description:


Benefits of NutraBio Agmatine Sulfate (500mg):
• Increase Muscular Pumps
• Enhances Nitric Oxide (NO) Production
• Improves Nutrient Delivery to Muscle Cells
• Improves Muscle Cell Insulin Sensitivity
• Boosts Endurance and Decreases Recovery Time
• Pharmaceutical Grade and HPLC Tested by an Independent Lab

Agmatine, the next generation "Super Arginine" for ultimate Muscle Pumps:
Agmatine is the next generation arginine and is often referred to as "Super Arginine" because of its ability to give explosive increases in Nitric Oxide synthesis. Increased nitric oxide results in vasodilation, which increases blood flow, nutrient delivery to skeletal muscle, and oxygen transport. Increased blood for ultimate muscle pumps. It acts as a neurotransmitter, a precursor to the polyamines and has many other key biological functions within the body.

NutraBio Agmatine is GMP manufactured to Guarantee Potency and Purity:
Nutrabio Agmatine Sulfate is manufactured by us in our own FDA registered and inspected GMP manufacturing facility to meet FDA 21 CFR Part 111 quality regulations. To control quality through the entire manufacturing process we do it all ourselves and never use contract manufacturers. Our Agmatine is HPLC tested by an independent lab to guarantee purity and potency. NutraBio Agmatine is pharmaceutical grade, 100% pure and contains absolutely no additives, fillers or excipients. It is free of harmful impurities, undeclared ingredients and is guaranteed to meet 100% label claim. Our Agmatine is so pure we won't even use dyes, so don't expect fancy colored capsules, we leave the gimmicks to the marketing brands.

The Science and Research behind Agmatine:
Agmatine is a metabolic byproduct of Arginine. It is formed within the body after L-Arginine interacts with the enzyme arginine decarboxylase. Agmatine is basically Arginine with the carboxylic acid end removed. Agmatine produces the byproducts guanidino-butyladehyde and the polyamines putruscene, spermine, and spermidine which are involved in cell growth. Agmatine is found in tissues throughout the body and is synthesized and stored astrocytes, glial cells in the brain and spinal cord, which provide structural and metabolic support to the nervous system. Agmatine acts as a neurotransmitter and neuromodulator with a vast array of actions in the body. Agmatine is an imidazoline receptor agonist. Imidazoline receptors have several functions: regulation of insulin secretion, pain modulation, and neuroprotection/neuromodulation. Clonidine, another imidazoline receptor agonist, has been noted to stimulate the release of luteinizing hormone (LH). Researchers conducted tests on agmatine and found that it can also modulate the release of LH from its interaction with hypothalamic tissues. The modulation of imidazoline receptors by agmatine has also been shown to improve insulin sensitivity.
Disclaimer:
These statements have not been evaluated by the Food and Drug Administration.This product is not intended to diagnose, treat, cure, or preventany disease.