Quick Links to Best Prices Price History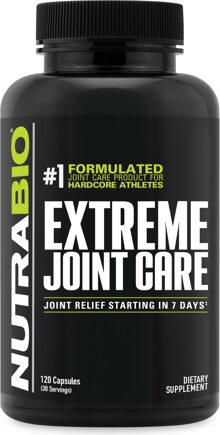 NutraBio Extreme Joint Care
Product Description
Extreme Joint Care
Extreme Joint Care is the ultimate joint care and connective tissue repair supplement by Nutrabio. Specially formulated to benefit beginner, intermediate and the most hardcore of athletes alike, Extreme Joint Care is beneficial for all skill levels and body types.
What does Extreme
Joint Care
contain?
Extreme Joint Care is a vegetable-based joint care supplement that is packed with several highly effective and efficient active ingredients comprising of a proprietary blend of the best joint health boosting herbs on the planet. With a hefty helping of Opti-MSM, Black pepper Extract and Boswellia Serrata extract, Extreme Joint Care ensures you get all the vital ingredients for optimal joint cartilage health and function.
Benefits of Extreme
Joint Care
Extreme Joint Care is beneficial for athletes and sportsmen of all ages, from all principals, intensity variations and body types. Some of the benefits of using Extreme Joint Care are:
Effective Joint Maintenance: The herbal and vegetable extracts contained within Extreme

Joint Care

maintain and recuperate from the regular wear and tear that advanced athletes usually suffer on their joints.
Joint Cartilage Repair: Extreme

joint Care

boosts joint cartilage repair and renewal, allowing for better skeletal joint function.
Boosts Mobility and Promotes Connective Tissue Health: Extreme

Joint Care

promotes connective

tissue repair

while boosting mobility and athletic performance.
How to Take Extreme
Joint Care
?
Extreme Joint Care comes in the form of vegetable based capsules. The capsules are intended for use as a dietary supplement. Recommended intake is 4 capsules each day, as an accompaniment with meals. Tissue repair supplements can be taken in one dosage. However, the recommended dosage is 2 Extreme Joint Care vegetable based capsules with the morning and evening meal respectively.
Does Extreme
Joint Care
Have Any Side Effects?
Extreme Joint Care and similar joint care supplements contain active ingredients that may cause temporary blood pressure and/or heart rate increase, as well as nausea and loss of appetite. However, since Extreme Joint Care is completely free of potentially harmful GMO-laden, plant based ingredients, there is a significantly lesser risk of this occurring with Extreme Joint Care.
Warning: This product is not intended for consumption by those who are under-18, women who are currently lactating as well as people with a history of liver disease.
Product Specifications
Category:

Joint care supplements

,

Tissue repair supplements

,

Joint health

Manufacturer: Nutrabio
Servings per Container: 30
Dosage: 4

capsules