Quick Links to Best Prices Price History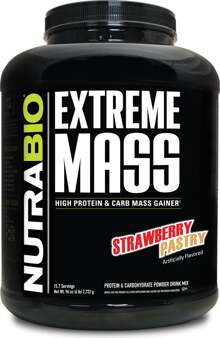 Product Description
Extreme Mass
Arguably the best pure mass gainer in the market at the moment, Extreme Mass by Nutrabio is the absolute purest, unadulterated, as well as scientifically advanced mass gain supplement. A combination of 2 of the most effective muscle fuels in existence (namely Micellar Casein and whey protein isolate), Extreme Mass delivers a massive 53 grams of protein in both an instantaneous and sustained absorbing dosage.
The cold-filtration and zero-additive manufacturing process results in a mass gain protein complex that is not only extremely pure, but brings extreme mass gains that keep increase with each workout.
What Does Extreme Mass Contain
Extreme Mass has an amino acid profile that is complete spectrum, making it very effective as both a protein isolate and a post-workout supplement. The main ingredients which make Extreme Mass quite effective are:
Whey Protein Isolate

: The most well-known of all

mass gain

proteins,

whey protein isolate

is the main ingredient in Extreme Mass. It is also what makes it so effective as both a pure

mass gain

supplement as well as a post-workout protein.

Micellar Casein

: The second major component of Extreme Mass is the

Micellar Casein

, which delivers a more sustained and time-based release of protein, for both greater bio-availability and better protein efficiency.
Benefits of Extreme Mass
Extreme Mass contains some of the highest quality products you can get, with the most effective combination of time-release and quick absorption protein. Some of the benefits of consuming Extreme Mass are:
Extreme

mass gain

s with a reduced breakdown of vital muscle fibers
Shorter recovery and rest times between workouts and sessions
High-concentration, full-spectrum amino acids
Greater nitrogen retention rate, as well as better glycogen replenishment
How to Take Extreme Mass
The recommended usage is 4 scoops with water, skimmed milk or other beverages, depending upon individual protein and caloric needs. In case of a desired diet high in calories, consume 1 scoop in water or milk, with each meal.
For use as a post workout, take 4 scoops in water or milk, a minimum of 30 minutes after the workout session.
Side Effects of Extreme Mass
There are no significant side effects of Extreme Mass or any of its ingredients. However, mass gain supplements can sometimes cause mild health problems for those with a history of liver and kidney diseases as well as gastrointestinal issues.
Product Specifications
Category: Protein, Post Workout
Manufacturer: Nutrabio
Servings per Container: 16 – 6lb pack, 47 – 18lb pack
Serving Size: 4 Scoops
Each Serving Delivers:

Whey Protein Isolate

– 47.7gm,

Micellar Casein

– 19.8gm, Maltodextrin – 93gm, Medium Chain Triglycerides – 4.5gm, Digestive Resistant Maltodextrin – 5.4gm, Flavor Profile – 3.5gm
Flavors: Vanilla, Strawberry and Chocolate.