Quick Links to Best Prices Price History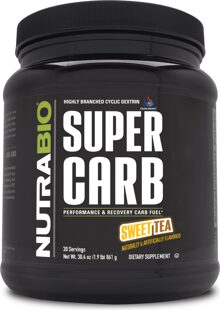 SUPER CARB
Rapidly fuels performance with no stomach discomfort*
Replenishes glycogen stores for accelerated recovery*
Supports peak athletic performance
Fills dietary nutrient gaps to support optimum health
25G
Highly Branched Cyclic Dextrin
822G
Electrolyte Complex
0
Added Sugar
NUTRABIO SUPER CARB - BEYOND DOMINATION.
Every few years, one of these drops on the industry and shakes it to its core. It's one of those products that originates in select professional locker rooms and is talked about between elite nutrition gurus and world-class athletes
destined for glory. Slowly, more and more pro athletes embrace it because they'll pay for the best without hesitation. A supplement that actually works? Or better yet, a supplement not spiked that REALLY works?
Once word gets out, everyone must have this new innovation. In our case, that innovation is the single ingredient wonder carb known as highly branched cyclic dextrin (aka Cluster Dextrin). It's been the secret weapon of some of the most dominant performance athletes of the past decade, and now it can be yours too.
Without Compromise Since 1996
Founded in 1996, NutraBio is the original No Proprietary Blend, No B.S. honest brand. 15 years ago we revolutionized the supplement industry by introducing 4 quality commitments:
NO proprietary blends and full label disclosure
NO fillers, excipients, or additives (except flavor)
Full therapeutic dosages of every active ingredient
Manufacturing our own products to control every aspect of quality.
Two decades ago we set the goal of providing our customers with the most effective, clean and honest supplements available. Since that very first day, we have led the charge in supplement innovation with science-backed doses and full label disclosure.
We manufacture our products in our own FDA registered and audited facility. We are GMP certified and manufacture to exceed 21 CFR Part 111 cGMP regulations. We don't compromise on quality so you don't have to compromise on results.
WHERE CLINICAL RESEARCH ECLIPSES THE HYPE.
NutraBio's Super Carb represents a true breakthrough in carbohydrate technology because it's clinically validated to increase performance to unheard of levels while limiting gastrointestinal distress. It achieves this by having a high molecular weight and ultra-low osmolality. Osmolality is an indicator of how fast a liquid will move through the stomach, which is why no carbohydrate on the market can rival the effectiveness NutraBio Cluster Dextrin.
Cluster Dextrin has a sustained release and is a truly remarkable performance aid. Can any carbohydrate source demonstrate clinical data like this? Not until now.
WHY IS SUPER CARB SUPERIOR TO
OTHER CARB PRODUCTS?
100% PURE CYCLIC DEXTRIN
GMP CERTIFIED
NON-GMO
PERFECT FOR GLYCOGEN LOADING
ULTRA-LOW OSMOLARITY
BENEFITS ATHLETES OF ANY AGE
CAN IMPROVE ATHLETIC PERFORMANCE
100% LABEL TRANSPARENCY GUARANTEED
SUPERIOR ELECTROLYTES FOR ENDLESS PERFORMANCE.
The more you sweat, the more electrolytes you lose. The harder and longer you exercise, the more critical it becomes to replace electrolytes as you continue. If you don't replace them, you run the risk of cramping and losing control over your muscle function. This happens because electrolytes are critical to maintaining normal water balance and supports the neuromuscular junction that allows your brain to communicate with your muscles. At NutraBio labs, we only use the best ingredients. Because of this, our cleverly crafted electrolyte blend was designed using Albion Labs premier mineral complexes as electrolyte donors. These can help to ensure efficient muscle contractions while supporting a lessened potential for cramping because you've become dehydrated from training hard.
There you have it. Super Carb is the MUST-HAVE performance carbohydrate for intelligent athletes and weightlifters of all backgrounds and ages because it's banned-substance free. NutraBio is known for being 100% transparent for its customers and has been for well over a decade. We have never been sued for amino acid spiking, cited by the authorities for putting drugs in our products, or for cheating on our label claims. What you see is what you get and we are 100% legitimate while being 110% committed to bringing you the cleanest products ever created. You TRAIN WITHOUT COMPROMISE, and we've put every ounce of effort into designing Super Carb WITHOUT COMPROMISE.