Quick Links to Best Prices Price History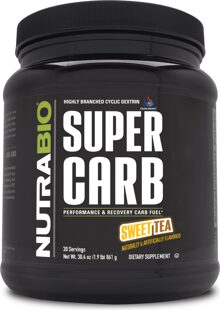 Performance & Recovery Carb Fuel
Accelerates Gains | Rapidly Boosts Performance | Replenishes Energy
Super Carb is the only high branched cyclic dextrin product on the market made by a company with over 20 years of experience in delivering high quality supplements. It represents a true breakthrough in carbohydrate technology for athletes. Highly branched cyclic dextrin is clinically validated to increase performance to unheard of levels while limiting any semblance of gastrointestinal distress. It achieves this by having a high molecular weight and an ultra-low osmolarity. Osmolarity is an indicator of how fast a liquid will move through the stomach and no carbohydrate on the market is faster than NutraBio Super Carb, including some other cyclic dextrin products. Even better, this product is perfect for athletes and weightlifters of all backgrounds and ages because it's free of all banned substances. NutraBio is known for being 100% transparent for its customers and has been for well over a decade. You TRAIN WITHOUT COMPROMISE, and we've put ever ounce of effort into designing SUPER CARB WITHOUT COMPROMISE.