Quick Links to Best Prices Price History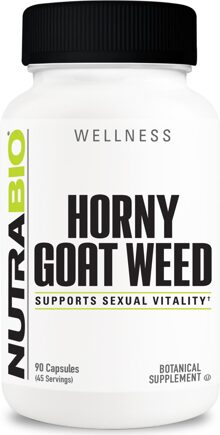 NutraBio Kosher Horny Goat Weed 500 Mg Description:


Benefits of NutraBio Horny Goat Weed (500mg):
• Natural Libido Enhancer Epimedium sagittatum extract standardized to 20% icariin
• A safe way to naturally enhance libido.
• May support strong bones.
• Traditionally used in Chinese culture as an aphrodisiac.

Horny goat weed, also called Epimedium or Yin Yang Huo, is a small shrub with wide, heart-shaped leaves that resemble ivy. According to legend, a Chinese goat herder noticed an increase in his herd's sexual activity after they fed on the plant. It came to be known as Horny Goat Weed and began being used as a libido stimulator for both men and women. Horny Goat Weed has been shown to help support healthy sexual functions. NutraBio Horny Goat Weed is standardized to 20% icariin, so you receive a consistent amount of the most important active element of the herb.

Horny Goat Weed, known also as Epimedium or Yin Yang Huo, was first described in ancient classical Chinese medicinal texts. Today, Horny Goat Weed holds an important place in traditional Chinese medicine and is gaining popularity around the world. The active ingredient in Horny Goat Weed Icariin can inhibit an enzyme called acetylcholinesterase (AChE). AChE rapidly stops neurotransmission at cholinergic synapses like those found in the brain and at neuromuscular junctions, which are needed for speedy responses in the neuromuscular system. By inhibiting AChE, Horny Goat Weed supports higher levels of the key cholinergic neurotransmitters associated with sexual arousal.
Disclaimer:
These statements have not been evaluated by the Food and Drug Administration.This product is not intended to diagnose, treat, cure, or preventany disease.