Quick Links to Best Prices Price History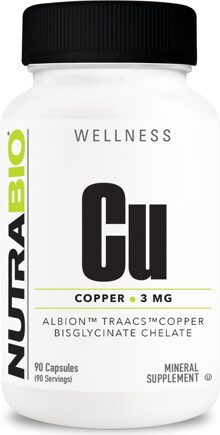 NutraBio Kosher Copper Chelate 3 Mg Description:


Benefits of NutraBio Copper Chelate (3 mg):
• Minerals are required for normal growth and maintenance of the body.
• Supplies 150% of the Daily Value (3 mg) of copper per single-capsule serving.
• Copper assists in the formation of healthy red blood cells*

NutraBio uses Albion Minerals Copper Glycinate Chelate an advanced, more bioavailable and patented form of the essential mineral copper. While most copper supplements aren't easily absorbed and cause gastric upset, Albion copper is chelated with the amino acid glycine to produce small, organic molecules that pass easily through the digestive tract and are gentler on the digestive system. Copper is important as a cofactor for many enzyme systems (including superoxide dismutase [S.O.D.] and other antioxidants), as a catalyst in the synthesis of hemoglobin, and in collagen formation. Copper also helps in energy production, aids in iron metabolism, and protects nerve fibers.
Disclaimer:
These statements have not been evaluated by the Food and Drug Administration.This product is not intended to diagnose, treat, cure, or preventany disease.