Quick Links to Best Prices Price History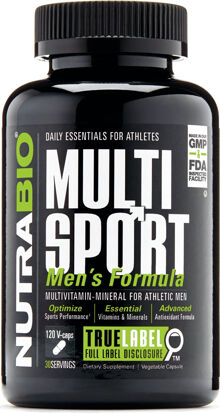 NutraBio MultiSport for Men
MULTI-SPORT
FOR MEN
33 vitamins, minerals and antioxidants*
Formulated to support the demands of athletic men*
Supports peak athletic performance*
33
Vitamins, minerals & antioxidants*
First Ever
Vegetarian & non-gmo multi-vitamin
NUTRABIO MULTI-SPORT FOR MEN: COMPREHENSIVE. MULTI-VITAMIN MINERAL MATRIX
In a perfect world, athletes would consume a well-balanced diet containing whole grains, fruits, and vegetables, thereby aiding in the assurance of the proper intake of all micronutrients. Unfortunately,
in the real world, athletes do not have perfect diets. In today's society, the lack of time and the convenience of less than ideal food sources tempt people to ingest a diet lacking many of the essential vitamins and minerals needed to maintain a healthy lifestyle and fuel performance.If an athlete's diet is less than favorable, it is recommended that they take a high-quality multi-vitamin as an easy and cost-effective way to ensure the proper intake of all the essential micronutrients. This is why NutraBio, the most trusted name in sports nutrition, developed MULTI-SPORT.
Without Compromise Since 1996
Who can benefit from taking multi-sport?
Anyone who...
....wants more out of their current multi-vitamin
...trains hard week in, week out
...wants to support the body's ability to recover from exercise*
...wants to support a healthy immune system*
...wants to support overall health*
THE RELATIONSHIP BETWEEN MACRO AND MICRONUTRIENTS AND EFFECTS ON ATHLETES
The human diet consists of both macro and micro nutrients. Macronutrients include carbohydrates, fats, and proteins, whereas micronutrients consist of vitamins and minerals. As their name implies, the macronutrients comprise most of the required dietary intake whereas the micronutrients are essential in much lower quantities. Many vitamins and minerals are important in the catabolism of the macronutrients for energy production.* It has been hypothesized that athletes have an increased requirement for vitamins and minerals because of the increased energy expenditure and excess muscle damage that occurs during training or competition.* NutraBio MULTI-SPORT can help support athletes to meet this increased need demand.*
MULTI-SPORT FOR MEN IS NOT YOUR TYPICAL ONE-A-DAY MULTI-VITAMIN
MULTI-SPORT is not an under dosed, low quality multi-vitamin typically found at your local drug store that is meant for the inactive coach potato. Instead, MULTI-SPORT is packed full of ingredients designed to meet the increased micronutrient demands of hard working athletes who want to maximize their training efforts and support overall health.* No expense was spared in including the most bioavailable sources of ingredients in MULTI-SPORT. For example, the Vitamin E and K found in MULTI-SPORT comes from d-alpha-tocopheryl succinate and Mena-Q MK7. Furthermore, several of the micronutrients found in MULTI-SPORT are formulated with Albion certified chelated minerals (TRAACS). TRAACS state of the art mineral amino acid chelate technology ensures that the minerals found in MULTI-SPORT are true chelates.
VITAMIN A
Supports healthy skin.*
VITAMIN C
Supports a healthy immune system.*
VITAMIN D
Supports normal bone health.*
VITAMIN E
Fat soluble vitamin.
Vitamin K
Supports normal bone health.*
Thiamin
Involved in many body functions, including normal nervous system and muscle function.*
Riboflavin
Contributes to normal energy-yielding metabolism*
Calcium
Critical in the maintenance of bone and is also needed in order for muscle contractions to occur.*
Iron
Component of hundreds of proteins and enzymes in the body and is an essential element for healthy and normal blood production.*
Phosphorus
Phosphorus contributes to normal energy-yielding metabolism.*
Magnesium
Important electrolyte.*
Zinc
Supports recovery from exercise.*
Selenium
Works as an antioxidant, especially when combined with vitamin E.*
Potassium
Critical for normal muscle contraction.*
FAQS
Q: What is the best way to take Multi-Sport for Men?
A: Take 4 capsules daily with meals. For best results, split into 2 doses and take 2 capsules twice daily with meals (ex: breakfast and dinner).
Q: Do I really need to take a multi-vitamin/mineral?
A: A multi-vitamin/mineral (especially for athletes) can help to support general health.*
Q: What other NutraBio products do you recommend stacking with Multi-Sport for Men?
A: Multi-Sport for Men can be stacked with any other NutraBio product.