Quick Links to Best Prices Price History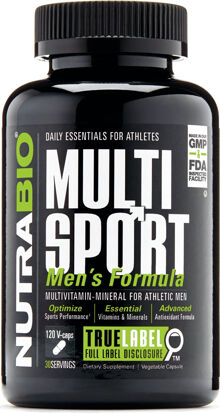 NutraBio MultiSport for Men
Product Description
MultiSport for Men
Intense training and use of prohormones and steroids may result in the loss of many critical vitamins and minerals, influencing an athlete's strength and performance. NutraBio offers you this unique formulation that has been designed to fulfill the nutritional needs of athletes and bodybuilders and improve their overall health and wellbeing. Containing 33 vitamins, minerals, and micronutrients, the supplement is sure to add to your vitality, strength, and endurance.
What Does MultiSport for Men Contain?
MultiSport for Men by NutraBio is a complete formula that contains all the vitamins, minerals, anti-oxidants, and other nutrients an athlete needs to give his best at the gym. Since individuals who are regularly involved in hardcore training have increased nutritional needs, the multivitamin contains several vitamins and minerals in quantities exceeding the minimum Recommended Daily Intake (RDI).
MultiSport for Men contains the following ingredients:
-Vitamin A
-Vitamin C
-Vitamin D
-Vitamin E
-Vitamin K
-Thiamin
-Riboflavin
-Niacin
-Vitamin B6
-Folate
-Vitamin B12
-Biotin
-Pantothenic Acid
-Calcium
-Iron
-Phosphorus
-Iodine
-Magnesium
-Zinc
-Selenium
-Copper
-Manganese
-Chromium
-Molybdenum
-Potassium
-Alpha Lipoic Acid
-N-Acetyl Cysteine
-Choline
-Bioflavonoids
-Inositol
-Bioperine
-Silica
-Boron
-Vanadium
---
What Are The Benefits of Using MultiSport for Men?
MultiSport for Men is a superior-quality multivitamin that restores your strength and energy by replenishing critical nutrients that your body needs in order to function at optimal levels. In addition to this, this nutritional supplement offers you the following benefits:
-Rapid Absorption — Despite containing high concentrations of minerals and vitamins, the product is absorbed rapidly from the gut into the bloodstream due to the presence of Bioperine.
-Protection Against Free Radical Damage — MultiSport for Men is packed with rich concentrations of anti-oxidants that protect your tissues and vital organs from damage caused by free radicals.
-Improved Athletic Performance — MultiSport for Men supports metabolism, enhances energy generation, and improves your athletic performance by providing you all the vitamins and minerals that are critical to numerous physiological processes.
---
How to Use MultiSport for Men?
Recommended daily dose of MultiSport for Men is 4 capsules. The dose should be split into two small doses and taken with meals to facilitate absorption of the nutrients and avoid gastrointestinal side effects.
---
Are There Any Side Effects of MultiSport for Men?
When taken in recommended doses, MultiSport for Men does not produce any major side effects. Please note that the multivitamin is intended to be used by athletes and individuals with increased nutritional demands only.
---
Product Specifications
-Category: Multivitamins
-Manufacturer: NutraBio
-Servings per Container: 30
-Serving Size: 4 vegetable capsules
-Each serving contains: 33 different vitamins, minerals, and anti-oxidants