Warning: This product is not currently available at any store.
Click the button above and PricePlow will email you when the first store has it in stock!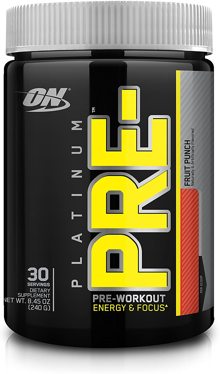 Optimum Nutrition Platinum Performance Stack
ON Platinum Hydrowhey - 3.5lbs
Optimum Nutrition Platinum Hydrowhey is the fastest, purest, most advanced whey protein we've ever developed. In a word: excellence. By hydrolyzing the protein in this premium formula we've created our fastest-acting whey protein yet. Hydrolyzing breaks larger proteins down into smaller pieces that are able to get into your system rapidly, enabling your muscles to start rebuilding quickly.*
Made with Advanced Hydrolyzed Whey Protein Isolates for Faster Delivery*
30 Grams of Ultra-Pure Protein per Serving
Nearly 9 Grams of Leucine, Isoleucine, and Valine (BCAAs)
No Lactose, Cholesterol, or Sugar
Contains Digestive Enzymes for Enhanced Utilization
Instantized to Mix Easily with a Spoon
ON Platinum Pre- - 30 Servings
Pre-workout supplementation isn't new. What's exciting about new Platinum Pre- is ON's commitment to using safe, effective ingredients in amounts that are clearly listed on the Facts Panel for all to see. There's no marketing hype in this product. This pre-workout formula is 100% business, just like you've come to expect from ON.
Of course, you also expect ON to provide more, and this Platinum-level pre-workout powder is no exception. In addition to intense energy and focus, the formula supports training performance with beta-alanine and citrulline. A novel fruit extract supports metabolism and a unique PhytoBlend completes the package. Those who demand more depend on Optimum Nutrition.*
ON Opti-Performance Pack - 30 Packets
Your body is fueled not just by the macronutrients protein, carbohydrates and fat, but by micronutrients in the form of vitamins, minerals and complementary components. Although much smaller amounts are required, neglecting any aspect of nutrition can hold you back in the gym and on the field of play. That's why Opti-Performance Pack contains potent amounts of 59 active ingredients designed to provide support for meeting your performance goals.*
Vitamin & Mineral Delivery
Antioxidant Fortification*
Bone & Joint Support*
Optimized Performance*