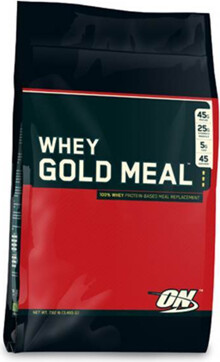 Optimum Nutrition Whey Gold Meal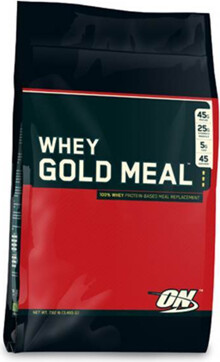 Optimum Nutrition Whey Gold Meal
This product has been discontinued.


Whey Gold Meal is an excellent and tasty dietary supplement that comes in natural and artificial chocolate crème flavors with 45g protein, 25 Vitamins and minerals in each serving.

Directions Blended: Add 2 scoops of Whey Gold Meal to a blender filled with 5-6 ice cubes and 14-16 oz. of cold water, milk, or your favorite beverage. Cover and blend on highest speed for 45-60 seconds or until well mixed. You can add some additional nutrients to your shake by including one or more of the ingredient suggestions listed on the side of this package. Shaker: Fill a shaker cup with 14-16 oz. of cold water, milk, or your favorite beverage. Add 2 scoops of Whey Gold Meal. Cover and shake vigorously for 30-45 seconds. Tip: Mixing one scoop with 14-16 fl oz of nonfat milk instead of water will give you a thicker, creamier shake. Spoon stirred: Add 2 scoops of Whey Gold Meal to a large glass filled with 14-16 oz. of cold water, milk, or your favorite beverage. Mix thoroughly with a spoon for about 25 seconds or until powder is completely dissolved into the liquid. Recommended Use: Consume 1-3 servings of Whey Gold Meal daily. Use in place of one or more of your 4-6 small meals or as a high-protein, between meals snack. With 45 grams of rapidly digested whey proteins and 20 grams of quality carbohydrates, Whey Gold Meal also makes an excellent post-workout recovery shake. Note: This product is not intended to serve as a sole source of nutrition. Do not use for weight reduction. Make sure that at least 50% of your daily nourishment comes from nutritious whole foods like fruits, vegetables, lean proteins, and whole grains. Shake up your shake: If you want to add some ingredients to make your shake a bit less routine here are a few ideas. To increase the carbohydrate content in your Whey Gold Meal for additional energy and faster glycogen replenishment, try using fruit juice or nonfat milk in place of water. Or try adding fresh or frozen fruits. Store in a cool, dry place.


NUTRITION FACTS

Serving Size 2 scoops
Servings Per Container 45
Amount Per Serving
Serving
% DV
Calories
300
-
Calories from Fat
35
-
Total Fat
4 g
6%
Saturated Fat
3 g
13%
Trans Fat
0 g
-
Cholesterol
140 mg
47%
Sodium
390 mg
16%
Potassium
550 mg
16%
Total Carbohydrate
20 g
7%
Dietary Fiber
5 g
20%
Sugars
4 g
-
Protein
45 g
-
Vitamin A
25%
Vitamin C
50%
Calcium
50%
Iron
35%
Vitamin E
50%
Thiamin
25%
Riboflavin
50%
Chloride
6%
Niacin
25%
Vitamin B6
25%
Vitamin B12
25%
Biotin
25%
Pantothenic Acid
25%
Phosphorus
35%
Iodine
25%
Magnesium
40%
Zinc
25%
Selenium
15%
Copper
25%
Manganese
50%
Chromium
45%
Molybdenum
35%
Folic Acid
25%
*percent Daily Values are based on a 2,000 calorie diet.

Ingredients: Protein Blend (Whey Protein Concentrate, Whey Protein Isolate, Hydrolyzed Whey Peptides), Cocoa (Processed with Alkali), Oat Bran, Natural and Artificial Flavors, Maltodextrin, Gum Blend (Cellulose Gum, Xanthan Gum, Carrageenan. Vitamin/Mineral Blend (Dimagnesium Phosphate, Calcium Carbonate, Tricalcium Phosphate, Maltodextrin, Ascorbic Acid, Ferric Orthophosphate, Molybdenum AA Chelate, D-Alpha Tocopheryl Acetate, Boron Proteinate, Niacinamide, Zinc Oxide, Manganese Sulfate, D-Calcium Pantothenate, Selenomethionine, Pyridoxine Hydrochloride, Vitamin A Palmitate, Cupric Oxide, Chromium Polynicotinate, Thiamin Hydrochloride, Riboflavin, Beta Carotene, Folic Acid, Biotin, Potassium Iodide, Cyanocobalamin), Brown Rice Syrup Solids, Lecithin, Partially Hydrolyzed Guar Gum, Salt, Sucralose, Acesulfame Potassium, Aminogen, Carbogen, Lactase.