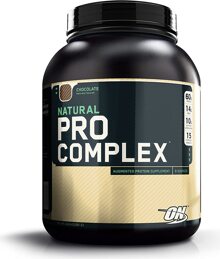 Optimum Nutrition Natural Pro Complex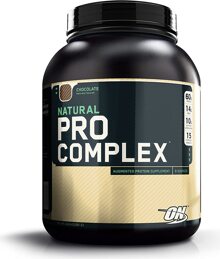 Optimum Nutrition Natural Pro Complex
Details Every serving of Natural Pro Complex APS in chocolate flavor is filled with the highest quality of commercial proteins that has no artificial flavor, sweetener or synthetic color.

Directions SPOON STIRRED: Natural Pro Complex APS is INSTANTIZED. That means if you forgot your shaker cup or do not have time to get out the blender, you can just add 2 rounded scoops of Natural Pro Complex APS to a glass filled with 8-12 oz of water, nonfat milk or your favorite beverage. Then mix it up with a spoon. Stir for about 20 seconds until powder is completely dissolved. TIP: Adjust the intensity of your Natural Pro Complex by varying the amount of liquid that you use to prepare it. For a bolder flavor with slightly more body and sweetness, mix two scoops with 6-8 oz of water, milk, or your favorite beverage. For a milder tasting, less sweet shake, use 12-14 oz of liquid per two scoops. SHAKER: Bringing a shaker cup with you to the gym is the perfect way to get a hefty dose of protein immediately after your workout. Just add 2 rounded scoops of Natural Pro Complex APS to your shaker cup and then pour in 8-12 ounces of your preferred beverage. Cover and shake for 25-30 seconds. Don't have a shaker cup? Visit optimumnutrtion.com and order a custom ON shaker, or visit your local health food store or gym. BLENDER: Add 2 rounded scoops of Natural Pro Complex APS powder to a blender filled with 8-12 fl. oz of water, nonfat milk, or your favorite beverage. Add several ice cubes and mix on highest speed for 45-60 seconds.


NUTRITION FACTS

Serving Size 2 Rounded Scoops
Servings Per Container 26
Amount Per Serving
Serving
% DV
Calories
300
-
Calories from Fat
10
-
Total Fat
1 g
2%
Saturated Fat
1 g
3%
Cholesterol
10 mg
3%
Sodium
330 mg
14%
Potassium
700 mg
20%
Total Carbohydrate
12 g
4%
Sugars
4 g
-
Protein
60 g
-
Vitamin A
2500 IU
50%
Vitamin C
60 mg
100%
Calcium
250 mg
25%
Vitamin E
30 IU
100%
Thiamin
1 mg
50%
Riboflavin
1 mg
55%
Niacin
10 mg
50%
Vitamin B6
1 mg
50%
Vitamin B12
3 mcg
50%
Biotin
150 mcg
50%
Pantothenic Acid
5 mg
50%
Chromium
120 mcg
100%
Folic Acid
140 mcg
35%
Stevia Extract (Stevia Rebaudiana) (Leaf)
220 mg
-
Enzyme Blend
250 mg
-
Proprietary Blends
Enzyme Blend Aminogen, Lactase (Standardized To 100,000 FCC Units/g).
*percent Daily Values are based on a 2,000 calorie diet.

Ingredients: Protein Blend (Whey Protein Isolates, Glutamine Peptides, Egg Albumin, L-Leucine, Whey Peptides, L-Isoleucine, L-Valine), Cocoa (Processed With Alkali), Evaporated Cane Juice Powder, Natural Flavors, Lecithin, Xanthan Gum, Potassium Chloride, Salt, Vitamin/Mineral Blend (Ascorbic Acid, Maltodextrin, D-Alpha Tocopherol Succinate, Niacinamide, D-Calcium Pantothenate, Pyridoxine Hydrochloride, Chromium Polynicotinate, Riboflavin, Thiamin Mononitrate, Vitamin A Palmitate, Biotin, Folic Acid, Cyanocobalamin).