Warning: This product is not currently available at any store.
Click the button above and PricePlow will email you when the first store has it in stock!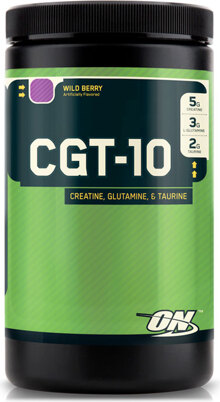 CGT-10 Highlights:
Combines Creatine, Glutamine & Taurine
Made with CreaPure Creatine
Micronized to Stay Suspended in Solution Longer
Dextrose or Inulin for Enhanced Delivery*
Supports STRENGTH, POWER, & RECOVERY*
Optimum Nutrition's CGT-10 is an advanced formula that combines three of the most effective ingredients available: Creatine, Glutamine & Taurine. Each serving provides 5 grams of CreaPure brand Creatine Monohydrate, 3 grams of L-Glutamine and 2 grams of Taurine.
Creatine is bodybuilding's ultimate supplement, and for good reason. Firstly, creatine can significantly increase lean muscle mass in just two weeks. It is also responsible for improving performance in high-intensity exercise, increasing energy levels, and speeding up recovery rates. It's no wonder athletes who use it have such of an edge over those who do not. Soon nearly every athlete who competes will use it (if they don't already). Creatine's ability to enhance energy reserves in muscles comes from its muscle protein synthesizing action, while minimizing protein breakdown. This occurs because creatine has the awesome effect of super-hydrating muscle cells with water. It enhances muscles' growth too-making muscle fibers bigger and stronger.*
Glutamine is the most abundant amino acid in the body. It is used in the gut and immune system extensively to maintain optimal performance. 60% of free-form amino acids floating in skeletal muscles is Glutamine! Glutamine plays a very important role in protein metabolism, and it appears to be a very important nutrient for anyone involved in intense resistance training. When supplemented, it may help athletes reduce the amount of muscle deterioration that occurs because other tissues that need glutamine will not rob the glutamine stored in the muscle cells.*
Taurine has several critical functions and can act similarly to creatine in that it expands your cells by helping the muscle cell itself hold more water, increasing overall cell volume. For a athlete or bodybuilder, this is significant because expanded muscle cells can boost hydration resulting in a higher rate of protein synthesis.*