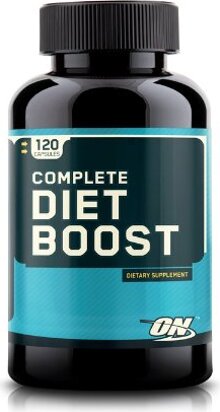 Optimum Nutrition Complete Diet Boost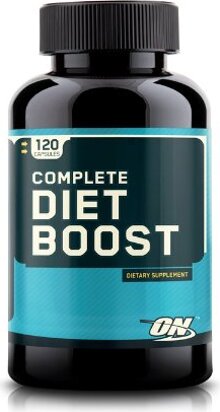 Optimum Nutrition Complete Diet Boost
Complete Diet Boost By Optimum Nutrition - 120 Caps - Weight Loss Support
Optimum Nutrition's Complete Diet Boost is specifically formulated to be used with our popular Complete Protein Diet weight-loss system. But Complete Diet Boost is so versatile, it's sure to become every dieter's best friend. Its synergistic blend of herbs and host of metabolic cofactors make Complete Diet Boost one of the most advanced weight-loss formulas out there.Supports Energy Levels and Metabolism.
What's In Optimum Nutrition Complete Diet Boost?
Nutrition Facts †

Serving Size 2 Capsules
Servings Per Container 60
Amount Per Serving
Serving
% DV
Vitamin B6 (as Pyridoxine Hydrochloride)
2.0 mg
100%
Folic Acid
400.0 mcg
100%
Vitamin B12 (as Cyanocobalamin)
6.0 mcg
100%
Vitamin C (as Ascorbic Acid)
30.0 mg
50%
Pantothenic Acid (as D-Calcium Pantothenate)
10.0 mg
100%
Magnesium (as Magnesium Aspartate)
5.0 mg
1%
Vitamin E (as D-Alpha Tocopheryl Succinate)
30.0 IU
100%
Chromium (as Chromium GTF Polynicotinate)
120.0 mcg
100%
Vitamin A (as Mixed Carotenoids)
1000.0 IU
20%
Proprietary Diet Boost Blend
1418.0 g
-
Proprietary Blends
Proprietary Diet Boost Blend Guarana Extract (Paullinia Cupana) (Seed) (30% Caffeine), Green Tea Extract (Camellia Sinensis L.) (Leaf) (40% EGCG/22% Caffeine), Phase 2 - Brand Bean Extract (Phaseolus Vulgaris) (Fruit), Yerba Mate (Ilex Paraguayensis) (Leaf) (20% Caffeine), Kola Nut Extract (Cola Acuminata) (Fruit) (20% Caffeine), Advantra-Z (Citrus Aurantium L.) (Fruit) (30% Synepherine), Metabromine-G (Cocoa/Guarana Extract) (5% Caffeine/5% Theobromine), Ginger Powder (Root), Cayenne Powder (Fruit), Dl-Methionine, Dandelion Powder (Root), White Willow Powder (Bark), Dl-Phenylalanine (Phenylketonurics - Contains Phenylalanine), DMAE (2-Methylaminoethanol), L-Tyrosine, Grape Seed Extract (Vitis Vinifera L.) (Seed) (95% Polyphenols), Acetyl-L-Tyrosine.
*percent Daily Values are based on a 2,000 calorie diet.

Ingredients: Gelatin, Magnesium, Stearate, Silica, Stearic Acid.

*These statements have not been evaluated by the Food and Drug Administration. This product is not intended to diagnose, treat, cure or prevent any disease.

†Nutritions Facts are a simulation of the product "Nutrition Label". For the actual Nutrition Label please refer to the product packaging.
How to Take Optimum Nutrition Complete Diet Boost:
Take 2 capsules 30-60 minutes before morning, afternoon, and evening meals. Begin with one capsule three times per day for the first week to assess tolerance. Do not exceed 6 capsules daily. Do not take after 5:00 pm if you have difficulty sleeping.
Warnings:
Do not use this product if you are pregnant, nursing a baby, or under 18 years of age. Check with a qualified healthcare professional before using this product if you have any known or suspected medical condition and/or are taking any prescription or OTC medication. One (1) serving of Complete Diet Boost contains 250 mg of caffeine or about the same as two and a half (2.5) cups of coffee. Do not consume more than one (1) serving every four (4) hours. Too much caffeine can cause nervousness, irritability, sleeplessness, and occasionally rapid heart beat.
PLEASE NOTE: Product image is representative of the product offered but may not have the exact attributes. Please read product description for the specific attributes of this product.
PLEASE NOTE: The information above is intended for reference only. While we attempt to keep our information accurate, we cannot guarantee it is an accurate representation of the latest formulation of the product. If you have any concerns, please visit the vendor's web site. The information above are the views of the product's manufacturer, not the views of Same Day Supplements. These statements have not been evaluated by the Food and Drug Administration. This product is not intended to diagnose, treat, cure or prevent any disease.
*Prices are subject to change at any time and some items are limited to stock on hand.
In-stock orders placed before 3pm EST ship out the same day.
We offer many shipping options to countries like:
Brazil
United Kingdom
Canada
Germany
Australia
Japan
India
France
Israel
Worldwide